NovaBACKUP Release: Change How You Administer Backup
by Sean Curiel, on Oct 12, 2022 1:57:30 PM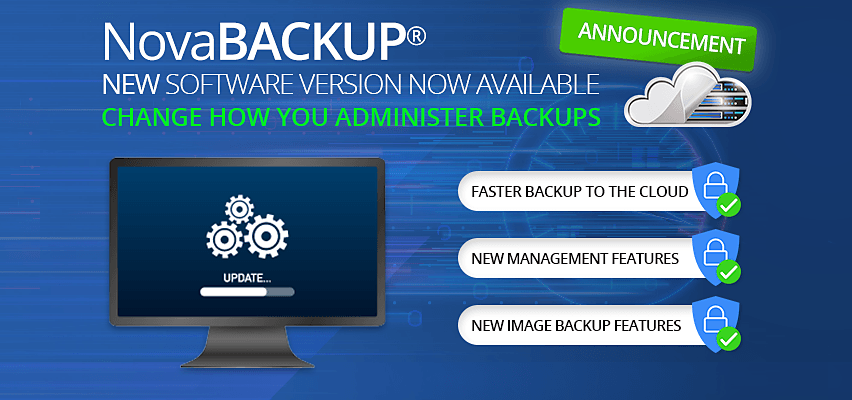 The day has arrived, and the new version of NovaBACKUP is now available! Our goal is to empower organizations with the ability to simply and reliably backup data from anywhere to any location in the fastest way possible. This release offers new features and enhancements that have the potential to change an organization's data protection strategy, as well as how backups are administered.
Meet More Aggressive RPO's
Backup to the cloud comes with its own set of benefits and challenges. Until recently backup to the cloud had the potential to be slow or disruptive. But advances in technology have made life much easier for backup administrators while the concept of hybrid backup (local and cloud) has become a proven standard. After all, the cloud allows critical data to become available and restorable from anywhere while being secured in a location other than the primary network to insure against a catastrophic event or attack.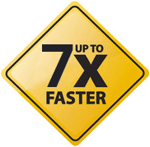 Why does your RPO's matter? Even businesses that diligently back up to the cloud have found themselves in precarious situations. This is often due to the loss of data that fell outside their RPO. Put simply, they weren't backing up frequently enough to capture something critical. Using the new Data Mover Engine, backup speed improvements of up to 7X have been witnessed, opening up the possibility of new backup strategies, such as incremental forever (frequent, yet small backups of changes since the last successful backup). In this scenario, a high frequency of backups creates a much tighter grid of data snapshots, which in turn helps backup administrators meet more stringent RPO's.

An incremental strategy isn't limited to file backups, however. Faster Disaster Recovery (DR) options that require less storage space, now include incremental & differential image backup options for VHD and VHDx. These smaller, more efficient DR backups play a role in helping to meet aggressive RPO targets and can facilitate a faster restoration of systems.
When disaster strikes, whether man-made or natural, meeting your RPO will determine whether or not your organization (and your customers) will be able to function.

Compliant with the SysAdmin Lifestyle
The NovaBACKUP team understands that for our partners to be successful, deploying, monitoring, and administering backups must be as convenient and straightforward as possible. Whether you are an MSP offering backup as a service to clients, an IT reseller, or a professional in a highly-regulated industry - new Central Management features have been improved to complement a busy lifestyle.

Changes to the modern workplace mean that an admin could be in the office, working from home, or on the go. In any case, a central means of administering backups must be accessible, regardless of physical location. In this NovaBACKUP release the CMon console, previously focused more on monitoring, has grown into a full-fledged management center. NovaBACKUP Central Management, a multi-tenant and multi-user dashboard, is accessible from any browser connected to the internet. System administrators are able to take control of machines across the globe, creating and modifying backup jobs to fit client environments.

Management flexibility, and client backup status at a glance, ultimately means more freedom for the backup administrator. Freedom that translates to a reduced workload when it comes to backups.
Recover from Accidents and Sabotage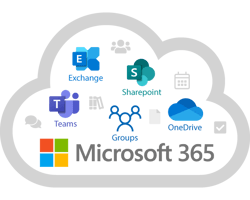 With software services like Microsoft 365, there may be an inclination to think that lost data is already recoverable. This isn't the case. Temporarily deleted items may be recovered (within 30 days) and permanent deletions are in fact permanent. This speaks nothing of problematic data such as lost files, corrupted data, faulty migrations, and many other ways in which data might need to be restored.
And while external threats like ransomware are always a concern, let's take a moment to consider potential internal threats. A large percentage of data loss associated with SaaS is due to the simple act of deletion – whether accidentally or intentionally committed by an employee. NovaBACKUP's optional add-on for Microsoft 365 backup creates multilayered protection for Sharepoint, Teams, Exchange, OneDrive, and more. Should you have clients who are suffering from human-caused data loss, there is now a simple course of action that you can take to restore their Microsoft 365 data. Backup admins can now conveniently consolidate the tools and interfaces they use to protect important data, saving their most valuable resource – time.
Data, Set in Stone
As malware advances, the ability to spread throughout your network and even onward to wherever your backups are stored has become a real concern. The very location you depend on for data security becoming a vector for further attack is a nightmare scenario.
Immutable backups are files which cannot be changed, altered, or encrypted in any way, thereby shielding your data. As NovaBACKUP users explore the best cloud storage option for themselves, they may want to consider storage destinations such as the NovaBACKUP Cloud.

With NovaBACKUP Cloud there is an option to designate it as immutable. We are working hard to fulfill the ideal backup scenario of 3 copies of data, using 2 different types of media, with 1 offsite and now 1 held on immutable storage. Users can have confidence that their cloud storage isn't exposed or left open to the possibility of attack from the outside world. While no backup strategy is completely ransomware-proof, this 3-2-1-1 concept goes a long way toward ensuring that critical data is always recoverable.
.
Webinars for MSPs, Partners, and Users
These upcoming webinars are a great opportunity to learn more about NovaBACKUP and how it can benefit your backup administration process. We'll cover all the latest improvements on a deeper level and field your important backup questions. Sign up today while registration remains open.

UPDATE: The New NovaBACKUP is Now Available!
Our series of launch webinars spoke directly to MSP's, vendor partners, and professional offices. In this webinar clip we discussed the latest feature additions and NovaBACKUP enhancements.

Questions? Reach out and speak with one of our data protection experts today.