Deep Dive into the New Release of NovaBACKUP
by Sean Curiel, on Oct 3, 2022 10:30:00 PM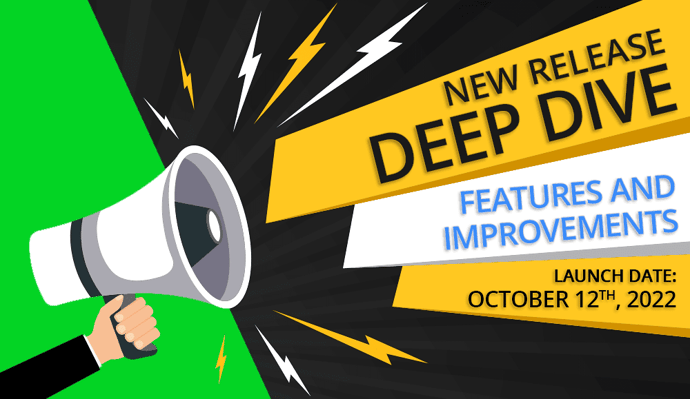 The modern workplace has changed, and with it too must our technologies evolve to protect business data. Employees increasingly work from offsite locations and data has become more widely distributed, making backup administration more challenging. In this environment, the likelihood of cyber-attacks and data breaches is at an all-time high. The NovaBACKUP team has taken the opportunity to address these needs in the new version of NovaBACKUP software to be released on October 12th, 2022. We take a look at what exciting changes you can expect to see in today's Blog post.
The Need for Speed
A brand new data handling technology now allows organizations to drastically increase the number of their backup jobs to the cloud and also increase those data loads with minimal impact to system resources. These incredible speed advances have resulted in an up to 7x speed improvement when sending data to the cloud using NovaBACKUP's NEW Data Mover Engine. The ability to transfer data to the cloud at such lightning-fast speeds means that backup strategies such as incremental-forever for continuous data protection become a reality, making a near-zero RPO and RTO possible. Speaking of the cloud, users have options. Whether it's their own private cloud, public cloud, or the NovaBACKUP Cloud (with a new data center in Germany, in addition to the US and Canada locations), the NovaBACKUP software gives you the choice of what best fits your needs - including the local storage devices you prefer (Disk, NAS, Backup Appliance).
The Goal of Remote Backup Control
When managing data is part of your job, remote access to backups isn't optional, it's vital. Now true management of backup jobs, whether you are a business or an IT provider, makes this task far more convenient with a new branch of functionality.  NovaBACKUP's highly-regarded backup monitoring has been upgraded to manage backups using a web-based console, accessible from just about anywhere.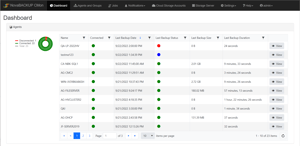 Backup administrators can setup, monitor, and manage client backup jobs and designate the cloud storage (public or private) of their choice. Deep insight into client machines is visible, down to granular details, to keep backup administrators in control. And IT providers who want to deliver local and cloud backup as a revenue-generating service, receive this Central Management software free as part of the NovaBACKUP MSP program. This included ongoing software enhancements and updates. Using other security tools you enjoy becomes even easier with open APIs that allow integration with other applications, for example, RMM solutions.
"We've seen a mammoth change in the last couple of years as digital transformation has reshaped our ideas of what the modern workplace can be. Accordingly, we've taken steps to redesign our technology to beat expectations when performing the backups that administrators require. The ability to efficiently manage data protection to and from anywhere is what our MSP partners have asked for. We've risen to meet that challenge with this new release." Mike Andrews, CEO, NovaBACKUP Corporation
The Master of Any Data Disaster
The ability to image entire systems, including OS and applications, and quickly recall them when needed is an important part of an organization's Disaster Recovery strategy. This functionality has been overhauled in NovaBACKUP to be more efficient and require far less storage space for system images. Options like incremental and differential backup to VHD/VHDx open up entirely new restore possibilities for backup administrators. Support for virtualization (VMware and Hyper-V) technologies means that a quick return to business is always achievable in the event of a data catastrophe (Example: Mount your VHDx image as a Virtual Machine inside Hyper-V for fast access).
SaaS Support and Reduced Effort
NovaBACKUP's wealth of data protection abilities keeps growing - already included are local and cloud backup & recovery for Windows systems (PCs and Servers), virtual machine backup, and support for business applications (Microsoft Exchange, and SQL). Now SaaS-based applications like Microsoft 365 are also supported to protect application data with automated backup of emails and mailbox backup, Teams, Sharepoint, Contacts/Calendars, and much more. Backing up, restoring, and migrating all business-critical Microsoft 365 data now becomes an effortless process.
A Solution Backed by the Experts
A fast response to requests, ethical billing practices, and technical support from experienced US-based engineers – we've redoubled our efforts to bring you a highly-personalized experience. Reseller partners will find that more than just software has changed, with a new license management portal to keep track of client assets. New licensing options and billing plans are available and our MSP program that even offers an exclusively usage-based license model!
UPDATE: The New NovaBACKUP is Now Available!
We look at how NovaBACKUP features can affect your organization's backup administration in our next blog post. Our recent series of launch webinars discussed some of the new features and improvements. Here's a clip that talks about "What's New":

Questions? Reach out and speak with one of our data protection experts today.