How to Backup Windows 8 Files?
by Bridget.Giacinto, on Dec 17, 2013 11:35:33 AM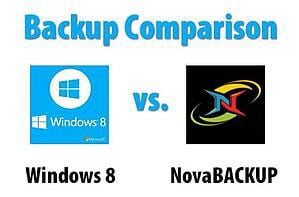 Losing your important computer files can be very frustrating, and in some cases, depending on the significance of those files, it can be devastating. Losing photos, documents, emails, music and videos can feel like you've lost a part of who you are. So if you don't want to lose all of those wonderful memories and other important information, you need to back up your files regularly.
Windows 8 Backup
If you are operating on Windows 8 you should be aware that it comes with its own Windows 8 backup software. The back up feature in Windows 8 offers a relatively simple, basic backup system but it isn't exactly easy to find. The easiest way we found to locate it is to do a search for backup on the Windows 8 home screen. However, if you're still not sure you trust all of your important files to the Windows 8 File History backup feature, you can get all the coverage you need from NovaBACKUP's PC backup software.
NovaBACKUP vs. Windows 8
Although Windows 8 does include a new File History for backup many people still prefer to store their information and files using a separate Windows backup program. So here's a comparison between Windows 8 File History and NovaBACKUP's pc backup for Windows 8.
Windows 8 – Windows 8 File History is a refined version of the backup feature that was part of Windows 7. File History gives you the option of creating automatic backup copies of all your files on a network drive or an external hard drive. It works with all of the following files and folders:
1. Photos
2. Music
3. Documents
4. Videos
5. Contacts
6. Desktop files
Windows 8 File History has also improved over the Windows 7 Backup program in that it offers more flexibility. However, it doesn't offer the wide variety of options and features that can be found in NovaBACKUP.
NovaBACKUP PC – On the surface, NovaBACKUP may seem like another simple file saving program. However, there is much more to it than meets the eye. Of course, it automatically saves all of your important information, including photos, music, videos and documents; but it does much more than that. It can save everything on your computer by creating full disk images of your hard drive. That means if you ever have a catastrophic computer event, having complete disk images can help you in several ways, including:
1. Restore your software applications
2. Restore your entire operating system
3. Migrate data to a new PC from an old one
4. Ensure that your backup files are virus-free
5. Restore data to dissimilar hardware
NovaBACKUP offers both local and online cloud backup options and can also handle many complex processes, including remote storage, versioning control, centralized management, mirroring and boot-disc creation. NovaBACKUP can even backup data to single tape drives, one of the few programs in existence that still offer that feature.
Conclusion
There's no question that if you keep anything of value stored on a computer then you should be backing it up. If you are running Windows 8 then it's important to have some form of Windows 8 backup software no matter what kind you choose. However, if you want a program that is easy and reliable to use and that you know you can count on, go with NovaBACKUP PC to backup Windows 8 files. You can be sure that all of your important files will be safely stored away and easy to access whenever you need them.