What is Single Mailbox Restore and How Do I Get It?
by Clay Levering, on May 20, 2014 10:00:32 AM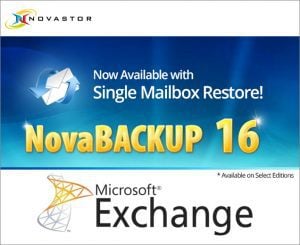 Single mailbox restore is the ability to restore individual mailboxes from Microsoft Exchange backups. This is one of the most common requests that we receive from our customers. They've told us that restoring an entire Microsoft Exchange instance and then drilling down to get a single piece of mail that their CEO accidentally deleted requires a huge amount of time and work. In NovaBACKUP version 16, we've listened:
Introducing NovaBACKUP Single Mailbox Restore
Users now have the ability to restore individual (or brick-level) mailboxes from Microsoft Exchange using the Ontrack PowerControls application shipped alongside the select NovaStor Software. This powerful tool is provided as part of the NovaBACKUP Business Essentials, and NovaStor DataCenter applications. Additionally, our existing customers with valid NovaCare and Upgrade Protection are also entitled to the PowerControls software.
Working with Ontrack PowerControls allows NovaStor software users with Microsoft Exchange backups to open their Exchange Database files (.EDB) and browse directly to individual items within that database. This can range from an entire mailbox to just a single email or calendar event.
When you purchase one of the Single Mailbox Restore-eligible versions of NovaStor software you'll receive one of two kinds of licenses:
Support for 25 Mailboxes
Support for 50 Mailboxes
Of course if you have more than 25 or 50 mailboxes, additional licenses can be purchased either during the initial purchase or afterwards.
Our support website has plenty of additional information regarding the new NovaStore Single Mailbox Restore features including how to download and install the software and system requirements. You can read more here: NovaStor Single Mailbox Restore Information