The End of Windows XP Draws Near: Are You Prepared?
by Bridget.Giacinto, on Mar 11, 2014 9:22:02 AM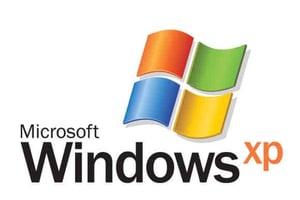 Microsoft announced that support for Windows XP, Office 2003 and Exchange Server 2003 will end on April 8, 2014. If you are still using one of these operating systems it's important to start thinking about updating to the latest operating system. With less than a month until the end of support for Windows XP, only the best operating system that Microsoft has ever released in my opinion, it's time to begrudgingly make your move and update that OS or invest in a new PC, which will include the latest software.
What if You Are Still Using Windows XP?
If you are still using Windows XP, your system will become vulnerable to unknown attacks once Microsoft stops supporting Windows XP. Why? Microsoft has stated that starting April 8th of 2014 there will be no more security update patches or support of any kind available for this product. Keep in mind, I'm not saying that your PC will immediately stop working just because you are using an unsupported operating system. What it does mean, is that your computer is more vulnerable to malicious hackers and viruses. The truth is new vulnerabilities arise on a regular basis, which is why updates are so important. Without these patch updates, the door becomes wide open for hackers to discover points of weakness in the operating system. Once a hacker has discovered a fatal flaw, they are able to do the unthinkable, cripple your PC even to the point of total failure. Although many anti-virus and anti-malware software will likely continue to support XP for the immediate time-being to help minimize attacks, I wouldn't count yourself 100% protected.
Microsoft blog states that "any anti-malware solutions deployed to it will no longer be able to protect the device, user and data against new and emerging threats. Vulnerabilities that are discovered in Windows XP or possibly even applications running on it will remain unpatched and many types of malware will be able to take permanent residence within devices. This can occur even if the device is running an up to date anti-malware solution. Based on this, it's critical that organizations and consumers migrate to a modern operating system."
What Can be Done to Protect Your System?
Your data is vulnerable to loss once your operating system has been compromised, so if you don't have a backup plan in place, now is the time to get one. Having computer backup software installed on your PC, with your backups stored either in the cloud or on an external device will ensure that no matter what happens, your irreplaceable files, photos, music and videos will be protected.
It's easy to get comfortable with an operating system that you have been using for a really long time. It's hard to believe that Windows XP has been on the market for over 10 years. When you get comfortable with how an operating system functions, sometimes it can be hard to make the transition, but at this point, time is not on your side. No matter how comfortable you are, it's just not a good idea to leave yourself vulnerable to attack when all you have to do is update your operating system to prevent it.
Will My PC Support the Latest Operating System?
If you have an older PC, there is a chance that the latest version of Windows will not be able to run on your system. Microsoft has a free tool called the Windows 8 Upgrade Assistant that will allow you to quickly check your PC to make sure it meets the system requirements for Windows 8.1. The next thing that you need to know is that updating to Windows 8.1 will require a clean install so it will completely wipe out all of your files, settings and programs when you upgrade your operating system. This is why having a backup of your computer is so important.
How to Restore Your Files on Your New Operating System
It may feel like a daunting task to update your operating system but with two simple tools in your tool belt, you CAN do it. The first thing you want to do is use a PC backup software to create an image backup (Disaster Recovery Image) of your system. An image backup is essentially a snapshot of your local hard drive, which will allow you to recover everything on your PC exactly as it is now. Once you have installed your new Windows 8.1 or other Microsoft supported operating system, the easiest way to migrate all of your files and restore them on your computer without overwriting your new operating system is to use PCmover Image & Drive Assistant. This software is specially designed to allow you to mount an image backup (NovaBACKUP Disaster Recovery images are compatible) as a virtual drive and do an 'Operating System Independent Restore' on your PC. These same steps could also be used if you want to migrate your files, programs and setting to a new PC.
As the end of Windows XP inches closer, now is not the time for procrastination. Do something now. It could save you a lifetime of files and irreplaceable memories.