NovaBACKUP 16 - The Virtual Backup Release That Bridges the SMB Gap
by Bridget.Giacinto, on May 13, 2014 10:39:39 AM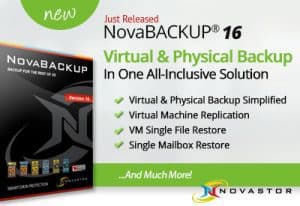 NovaStor is excited to announce the release of NovaBACKUP v16. This release has many new features and product enhancements that were developed specifically to address the virtualization backup needs of the small business market.
A recent survey conducted by VMware and Forrester reveals that 71% of small businesses expect to grow their virtual infrastructure in 2014, yet only 34% expect to be able to hire additional IT staff. In preparing for this product release, NovaStor conducted their own survey of resellers and found that 85% of resellers have already began introducing virtualization into their Small and Midsize Business (SMB) customer environments, with less than 5% of those companies going fully virtual. The rest have decided to ease into migration, opting instead for a more hybrid approach using a combination of physical and virtual machines to make up their server infrastructure.
Competitive Landscape of Virtual Backup Space
When we started to look at the competitive landscape for the virtual backup space, it quickly became evident that most solutions on the market today are simply too complex, and too expensive for most small business users. Many of these solutions are also focused exclusively on virtual backup, leaving the vast majority of small business users with the need to have multiple backup solutions in order to ensure that all of their data is protected.
We realized that there is a significant gap in the market for SMB users who really need a single backup solution that will meet all of their needs. We knew that our solution needed to remove the complexity that plagues the existing virtual backup space, giving non-IT SMB users a solution that they could intuitively understand how to use. Lastly, our solution had to be affordable as most small businesses work with limited and often out-stretched budgets.
NovaStor Bridges the Gap for SMB Customers
With the release of NovaBACKUP v16, we wanted to simplify the backup process by providing small business users with a single, all-inclusive solution that would allow them to manage both their physical and virtual server backups from a single interface at a price tag that's significantly less than the competition. Our Business Essentials product did just that: it bridged the gap, giving small business users a less complex, more affordable, all-in-one solution that supports their entire Windows server environment. It is also the only solution on the market that offers custom installation and setup at no additional cost. This level of premium service is unheard of in this industry, but it is exactly what small business users need.
Introducing NovaBACKUP Business Essentials v16
NovaBACKUP Business Essentials v16 is the ONLY all-inclusive physical and virtual server backup software solution offered at a single price and managed from a single interface.
Whether your critical data is stored on a physical server, a virtual server, or you plan to perform the migration from Physical to Virtual "someday soon", NovaStor is the only single solution that supports you at every stage. It's backup on your own terms, with one product, download, installation, interface, and one license key for the entire migration process, without having to pay for multiple solutions to protect your data.
All-in-One Dashboard for Hyper-V and VMware Backup
Backup doesn't have to be reserved for the IT-gurus of the world. With the new NovaBACKUP Virtual Dashboard (NVD), we've taken the complexity out of virtual backup. NVD is designed specifically for business users who want to manage, monitor and control all of their Hyper-V and VMware virtual machines from a single dashboard.
The new virtualization dashboard will enable a user with a small-to-medium sized business to guarantee not just that their virtual machines are backed up, but that data recovery is easy, effective, and fast. Traditional API / Plugin based backups from VMware and Hyper-V are effective, but with the added ability to restore single files from within a virtual machine and from multiple points in time, those backups are now significantly more robust. Finally, while backing up virtual machines is obvious for data archival purposes, the true goal of a VM platform is availability. With NVD, configuring scheduled replication jobs from Host-to-Host (or even Host-to-Self) allows users to ensure that if there is a major failure in their environment, they can be up and running in the shortest possible amount of time. Having all of these features available within a single platform helps ease the requirement on the user from having to "learn" multiple software formats.
Top New Feature in NovaBACKUP 16
All-in-One Physical & Virtual Backup - Supports physical and virtual environments from a single license, single installation and single interface.
Granular (Single Mailbox) Restore for Exchange - Restores individual mailboxes or emails rather than an entire Microsoft Exchange database.
Single File Restore - Uses a single file from a virtual machine rather than restoring the entire machine.
VM Replication - Easily duplicates Hyper-V and VMware virtual machines for testing, upgrading hardware and disaster recovery purposes.
Virtual Dashboard - Manages both VMware and Hyper-V virtual backups from a single platform with advanced backup tasks in just a few clicks.
Unmatched Service and Support
No other solution on the market matches our service and support.
Value – NovaStor guarantees that you will not find a better value in the market. At a fraction of the cost of comparable solutions, not everything is always "too good to be true."
Free Consultation – Ask a backup expert to perform an architectural review of your environment and then recommend the best solution for your "exact" requirements.
Free Installation – During the purchase process, schedule a FREE installation appointment with a NovaStor backup professional. Free yourself from any of the stress or time-constraints associated with implementation, and let the experts set up your backup for you so it is done right the first time.
Data Recovery and Remote Sessions – Should you need assistance with data recovery, we're here to help. Our support technicians can remote into your system to walk you through file recovery, so you can get up and running again fast.
Local Technical Support – Each license purchase comes with a full year of technical support via phone or email with a highly trained NovaStor employed backup expert and complete product upgrade protection.
30-Day Money Back Guarantee – Risk free with no questions asked.
Try it for yourself and download a free trial of NovaBACKUP Business Essentials v16.