How to Set Up Backup Retention to Purge Older Backups
by Bridget.Giacinto, on Dec 11, 2013 9:17:25 AM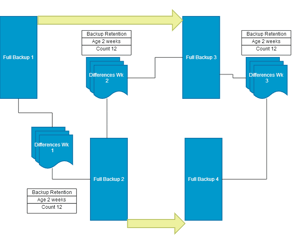 Need to clear out backup storage space? Backup retention may be the answer. Backup retention, also referred to as data retention is defined as a policy for retaining data to meet the legal and business needs of an organization. Creating a backup retention policy allows users to determine which backups will be kept, what storage types will be used and how long the data will be stored. Even if backup files are compressed, over time they grow in size and if a backup retention policy is not in place, backups can grow exponentially. Implementing a data backup retention strategy, allows users to balance data retention and restoration needs with the cost of additional data storage space (physical or virtual) required to meet those needs.
Many users think that once they have scheduled their backup jobs to run automatically that there is nothing further for them to do. In reality, backups grow in size over time and unless you have unlimited storage space or carve out the extra time needed to manually delete your older backups, you are missing a very important step in your overall backup strategy…backup retention.
Why is data retention so important?
Backup retention is crucial because it keeps your storage costs from skyrocketing by allowing you to purge older backups in an automated fashion. Although backup retention jobs can be created on the fly as needed when storage space is running low, it is better to establish a retention policy and create retention jobs, which are scheduled to run automatically based on the backup requirements of your company.
Data Retention Best Practices
When you start to think about your data retention requirements, you may want to diagram your backup strategy first. This will make it a lot easier to determine your retention needs. In this example (diagrammed above), full backups are being run once per week on Sunday's with incremental backups run daily on weekdays between full backups. Best practices for this backup scenario would dictate that at least two weeks of backups be maintained at all times, which means 2 full backups with a total count of 12 valid backups (2 full backups, plus 10 incremental backups; 5 per week) will be available for restore at any given time.
With NovaBACKUP, you can set up and schedule your backup retention policy in a matter of a few clicks. Here is a video on how to setup backup retention:
If you would prefer step-by-step instructions, here are instructions on how-to set up data retention for NovaBACKUP:
Step 1 – Schedule your backups. If you have not scheduled your automatic backups, do this first.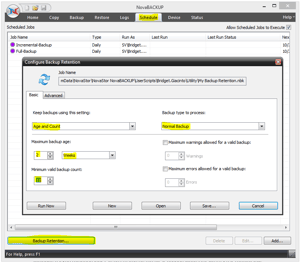 Step 2 – Set up your backup retention policy. Go to the Schedule tab and click the Backup Retention button. Select Age and Count as your backup retention settings. Based on the example above, set your backup type to Normal Backup, with 2 Weeks as the maximum backup age and 12 as the minimum valid backup count. Click Save or go to step 3 for advanced configurations.
Please note: You should set this up in accordance with your company's backup retention policy.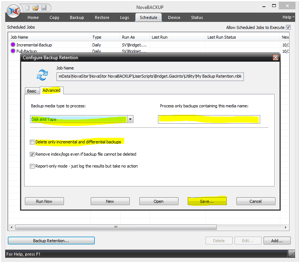 Step 3 – Add advanced configuration (optional). To view the advanced options for backup retention, click on the Advanced tab. Select the backup media type Disk (or Tape depending upon your needs). Easily delete incremental or differential backups with the check of a box, then enter the name of your media. Click Save.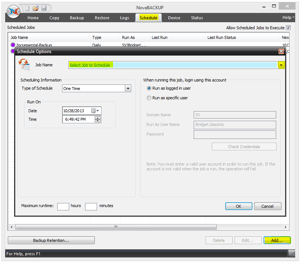 Step 4 – Schedule your retention job. Click the Add button in the lower right hand corner, and then Select Job to Schedule to select your saved backup retention job.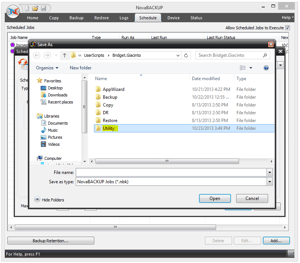 Step 5 – Save your retention job.Your backup retention job was saved within the Utility folder. Open this folder and select the file within it called My Backup Retention. Click Save.
(The script location should be something like this C:\ProgramData\NovaStor\NovaStor NovaBACKUP\UserScripts\Bridget.Giacinto\Utility, but it should take you here automatically.)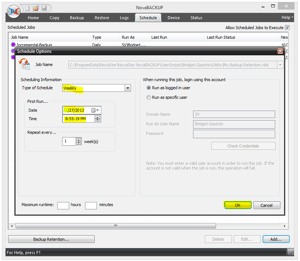 For this example, schedule your backup retention to run Weekly based on the backup retention policy we set up in step 2. But again, this should be set up based on your company's retention policy. Click ok, and you're done.
You now have a backup retention plan in place that will run once per week and ensure that you always have 2 full backups with a minimum count of 12 valid backups stored at all times, including your incremental backups.