Why Use NovaBACKUP Software for Backing up Windows 7?
by Bridget.Giacinto, on Jan 16, 2014 10:42:54 AM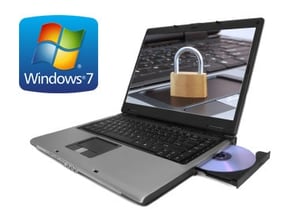 Just about everyone owns at least one computer and most people use their computer to store a lot of important documents and irreplaceable files. Many people store a lifetime of photos, videos and music adding up to thousands of files, while others mainly use their computers for business documents, emails and letters.
Whether your information is business-related or just for fun, you don't want to lose it. As nice as computers are, they aren't always perfect. If your hard drive crashes, for example, and you don't have all those important files backed up, you may never see them again.
NovaBACKUP Features
If you store anything of value on your computer then don't take any chances; back it up. There are several options for backing up your files, but one of the best ways to back them up is with NovaBACKUP. NovaBACKUP's Windows 7 backup software has several convenient features designed with the user in mind. They include:
Easy to use – one nice aspect of NovaBACKUP is how easy it is to use. Our NovaBACKUP backup program is simple to navigate and when it comes to securely backing up your system and all it's important data, NovaBACKUP just works. In addition to backing up your files, you can also easily create a full boot CD just in case a system error occurs that is bad enough to require a full re-installation of Windows. Even the boot CD is simple to use and requires very little computer expertise or knowledge.
Clear & concise – when you first launch NovaBACKUP you will see a straightforward menu that is easy to read. From there most people will choose the "Backup Wizard" option and NovaBACKUP's backup software will walk you through how to begin backing up all of your documents, photos, music files and outlook email files.
Lots of backup locations – NovaBACKUP offers solutions that can backup to Exchange servers or even to Amazon S3 cloud backup service. You can also use our professional backup program NovaBACKUP to store data to FTP servers, Microsoft Exchange servers (includes Exchange 2013) and a variety of other backup locations, including:
1. CD/CD-RW
2. DVD
3. Flash or thumb drives
4. Network attached storage
5. Network drives
6. Tape drives
Lots of Features – the NovaBACKUP software also offers other advanced features for those who are a little more PC savvy than others. You can choose these options, among other things:
1. The type of backup you want (full, incremental or differential)
2. Virus scanning options
3. How you handle the backup logs
4. Which, if any, files to ignore
5. Data encryption
6. Mirroring/Copying of files in native file format
7. Data retention (how long and how many backups to keep)
Disaster Recovery - another great feature in NovaBACKUP's backup software is that it creates a snapshot or drive image of your local hard drive which makes it possible for you to create a disaster recovery file. This file will then allow you to securely restore your entire system, including your operating system, applications and files in case of a complete system failure.
It works – the fact that NovaBACKUP's backup system is so simple and straightforward to use means that it takes almost no time at all to start backing up your files. There are also many different options to choose from, which gives users several sources to back up to and our backup system is extremely efficient and effective.
Results You Can Count on
When it comes to Windows 7 backup software, the best ones work quietly under the radar making a backup copy of all your important files and the data contained therein. When you choose NovaBACKUP for your backup program system you get exactly that. With NovaBACKUP you can rest assured that all of your important computer files will be safely backed up right where you need them.