7 Things You Must Do On World Backup Day
by Sean Curiel, on Mar 17, 2023 11:31:28 AM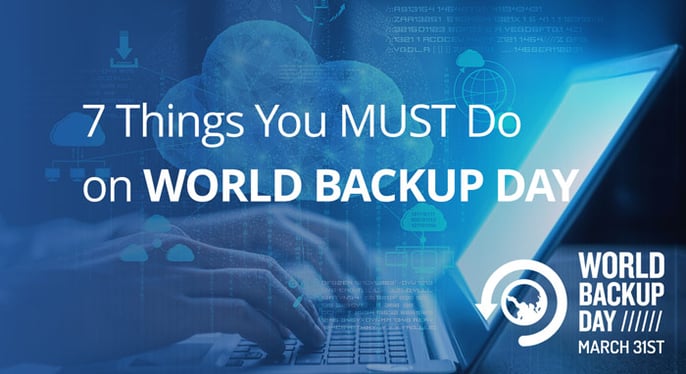 It's that time of year again when you hear a lot from data protection companies, touting the importance of World Backup Day. Is it important for you? Like many things, it's all about what you make of it. But If you aren't turning this day into a useful tool for your business, honestly, it's a missed opportunity. The fact is, all businesses must back up critical data, ensure that those backups are restorable, and reevaluate their data protection strategies regularly. So why not perform these tasks against a backdrop of new security insights, collaborative online events, and discounted security tools? World Backup Day is the perfect time to mark your calendar as the day to perform annual data protection maintenance and take a long, hard look at your security practices.
In today's Blog Post, we'll outline a series of actions you really should take on this day, as it will directly impact your ability to bounce back from the cyber threats that perpetuate data loss.
1. Verify that all critical data is being backed up
It sounds obvious, but we're constantly adding new applications, databases, and virtual machines to the mix. There may be new or remote employees to consider, and what about collaborative data hosted in cloud tools like Microsoft 365? If your backup job isn't also being updated, then important data may be getting overlooked.
2. Review retention schedules and policies
Depending on your industry, various privacy regulations may call for the retention of data for a set length of time and require the removal of personally identifying data when no longer in use. You'll want to make sure that data is being held onto for the correct length of time and that your data retention strategy is considering the latest laws and regulation changes.
3. Test the restore of your backup
A backup only has value if it is restorable and error-free when you need it most. For absolute certainty (and peace of mind), restore testing is part of any healthy maintenance schedule. Now is an excellent time to review this schedule and get it into your calendar. Restore tests can be a practice run of the steps your team takes in the event of a data loss scenario.
4. Backup hardware review
Your backup solution may be dependent upon internal hardware and infrastructure, including servers, storage devices, and media. Will your storage capabilities meet the needs of your data and retention requirements for the coming year? It's also time to perform some lifecycle management to determine how much time you can realistically expect in your current situation, and replace aging gear before it becomes a problem. This is the kind of proactive process that helps minimize downtime and data loss risk.
5. Backup software review
Make certain that you are running the latest version of your backup solution to enjoy the latest features and bug fixes. If using software, check that it's up to the task of meeting your anticipated growth in the coming year. If using a cloud service, are you in regular communication with an account manager who is intimately familiar with your organizational needs? In either case, the support you receive is equally important to the solution itself. NovaBACKUP team members are available to offer useful backup strategy advice for any environment when you need it.
6. Review logs, alerts, and notifications
System administrators need to be aware of any errors, potential issues, or outright failures that their backups may experience. Review recent backup logs to ensure that any potential points of trouble are identified. Update alerts and notifications within your solution that provide you ample warning via email should an expected backup result take place. Look over your central management and consider administrative changes that could make your life easier.
7. Update backup policies and procedures
The needs of your organization can change from year to year, and it's time to make changes to reflect your current infrastructure, employee needs, applications, etc. Have you reviewed your emergency data recovery plan with the security team members who are responsible for taking action? This critically important document (and other documentation required by data privacy laws) needs to be updated regularly to maintain compliance.
World Backup Day is an opportunity to step back and see how bulletproof your data integrity is and reflect on necessary changes in your strategy. It's a time when the industry offers up a wealth of knowledge, technology outlook, and even special pricing to fend off modern security threats. Just a handful of backup maintenance tasks can make a dramatic impact on your organization's vulnerability and resilience when it comes to recovering from downtime. The NovaBACKUP team works with businesses, IT providers, and MSPs to put in place flexible backup solutions with knowledgeable US-based support. Connect with us if you want to talk about your backup strategy.

Recent World Backup Day Webinars:
IT PROVIDERS / MSP
Unlocking Revenue Potentials with Backup & Recovery - Watch Video Recording Here

BUSINESS
Elevating your Backup & Recovery Strategy - Watch Video Recording Here