7 Steps to Switch Revenue Models from VAR to MSP
by Sean Curiel, on Nov 20, 2019 5:00:00 AM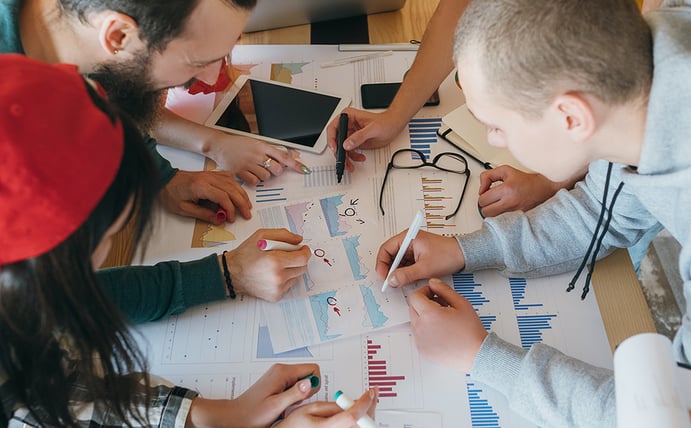 You've made the decision to add managed services to your portfolio, or change your business from a traditional (VAR) model to a managed service provider (MSP). This naturally takes some preplanning. Changes to your IT infrastructure, sales approach and marketing strategies will all be required. The driving force behind all this is improving the lives of clients, your ability to service them, and ultimately your organizations profitability. One natural concern is pricing. New pricing plans must be clear and attractive to customers, and generate new revenues. How can we change the classic IT service provider revenue model to that of a managed service provider?
Today we look at preparatory steps to making the change to MSP pricing models as smooth as possible:
Examine Relationships
It's time to put that "V" in "Value Added Reseller" to good work. Your top clients trust and respect your work, or you wouldn't be here today. Build upon this success and work with them early on, being open about forthcoming pricing transition. Build up your relationships with key vendors that will enable these new managed services, and utilize their expertise and reputation while building your offerings. Existing clients, and new clients alike, will be looking for stability and confidence as your business evolves.


Decide on your MSP Pricing model
Your services offering must match the needs of your current and future client base. An analysis of your costs to deliver services should help guide you in the best direction for choosing a specific pricing model. Also, carefully consider whether customers will be able to easily select a plan that will match their IT requirements.

Per User: Billing clients based on the number of users/per month.
Per Device: Billing based on the number of devices supported (severs, etc) per/month.
Per Level: Billing clients based on the tier/bundle of services provided per month.


Prepare the Bundle
You should have already identified what managed services are best to offer. If you haven't, consider what common pain points you come across in your market. Common MSP offerings include Network Monitoring, Help Desk, Data Security, Data Storage, and more. Avoid the trap of trying to offer too much and appearing unfocused. Similarly, allowing customers to pick and choose what services they want from a long list may do more harm than good by opening up gaps in their coverage, or your ability to manage them. Consider building packages that deliver maximum value to clients while adhering to best practice recommendations.


Reduce Redundancy and Costs
Prior to major change, it's important to take the time to look closely at all of your services and how they are being delivered. Examine the cost of delivering each managed service and determine how you can minimize it. Are there manual procedures which could be automated? Do employees require new training, or are new employees required? What tools can help you to more seamlessly administer services? Many businesses operate as something of a hybrid VAR-MSP as they add managed services, do you have a transition timeline planned-out that includes the elimination of redundant services?


Change from Within
Making the transition to a MSP takes time because several departments must refocus with new goals and strategies. With the delivery of services and sale of service contracts being the priority – adjustments to both sales and marketing will be required. Here is where those carefully cultivated personal relationships clients will work to your benefit. And if service hasn't been your priority before, it is now. Migrating customer services to the cloud is now the new normal. Is your support staff ready? Do your sales and marketing materials reflect this? Sales team members may be facing changes to their pitch and style of closing a sale, not to mention changes to how they are compensated.


Prepare Clients
As services are added and consolidated, conversations with clients will center on how your model can best work for them. There are certainly steps that clients should take in advance when making the move from local IT services to remotely managed IT services. Building up your relationships with migration assistance is in the MSP's best interest. In fact, you may even want to offer existing customers a free introductory period to get them on-board. Despite all efforts, there may be a few client hold-outs who are stubborn to change anything at all. In such cases you will need to determine if keeping the client is in your interests or a drawback.


Commit to the Change
When it clients see a partner going through change, they are looking for continuity in their services, proactive communication, and a steady hand. They will be looking for SLAs (Service-Level Agreements) that reflect your new proactive commitments. But moving from a reactive model to a proactive model is also going to require education, for both your team and your clients. While some new services may be rolled out individually, bold confident decisions will be required when it comes to initiating a new pricing model. Once you've prepared, entering the pool slowly may cause a lot more discomfort than diving in.
Change can be painful if unplanned. Precautionary steps can make a huge impact on a smooth transition to offering your existing clients new services and opening yourself up to a new market. Pricing is always a sensitive subject, which means your relationship and clear communication with clients is all that much more important as models change. Follow the 7 preparative steps we've laid out to give your organization the best prospects for a smooth pricing model transition.
For those considering Backup as a Service, NovaBACKUP for MSPs gives you a platform for predictable, recurring revenue. Not sure what to offer? Look at our blog post, "5 Reasons to Offer Backup as a Managed Service".