5 Steps to Prepare for Windows 7 End of Life
by Sean Curiel, on Jun 5, 2019 3:25:46 PM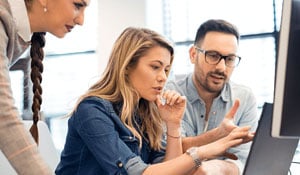 Windows 7 has been with us for a decade now, and it's time to bid it a fond farewell. While Microsoft officially ended mainstream support in January 2015, extended support will come to an end in January 2020. This leaves organizations roughly 7 months (from the writing of this post) to get their affairs in order and make a smooth transition to something new.
The Risks of Doing Nothing
Windows 7 end of support (and Windows Server 2008 EOL) means an end to Microsoft's free security updates that patch newly discovered flaws and vulnerabilities to protect your operating system. This leaves you open to ransomware, cyber-attack, hacking and other types of malware. If you are a business who deals with private information, highly regulated industries like healthcare and banking – the implications are clear. You may even believe that antivirus or anti-malware software can keep you secure, but this is simply false. There is no substitute for regular security patches. Viruses continually adapt to exploit data in new creative ways. It should also be mentioned any new hardware, such as the next generation of CPU's, will also be unsupported under such an outdated OS.
Steps to take - starting today:
Inventory Workstations
If you don't have total clarity on the status of your Operating Systems, then step one is to take a careful inventory of your hardware and workstations. Create clear documentation. Machines running Windows 7 must be singled out, and checked to make sure they have the latest service pack installed. Hardware specifications must be documented to ensure that workstations meet the minimum requirements to run a modern operating system. You should be able to identify which machines are upgradable and which are not. If any machines are running highly customized or discontinued software which could be impacted by an OS upgrade, tag these machines as problems to be solved.


Inventory Peripherals and Devices
While we're taking a closer look at our hardware, we should also look at devices and peripherals including printers, storage devices, displays, etc. Some of these may encounter issues while upgrading to a new OS driver. Check manufacturer websites and forums to ensure that a move is possible to begin with. Tag any devices which require replacement.


Determine Course of Action
In most cases businesses will opt to upgrade to the current Windows 10 operating system, provided that the hardware can support it. But this may not always be the best choice. Moving to a Linux or Mac operating system may also make sense, depending on the businesses' unique needs. Older machines may require hardware upgrades, or complete replacement. (According to Microsoft, Windows 10 minimum requirements are as follows: CPU: 1 GHz or faster, RAM: 1 GB (for 32-bit) or 2 GB (for 64-bit), and 16 GB of free drive space.) If a machine MUST continue using Windows 7, there are also a few "last resort" options you can read about in our next blog post.


Build A Migration Plan
With the clock ticking down, only you understand the pace at which your organization can make changes. With the most critical machines identified, you should now be planning both in terms of budget and man hours required to replace devices and upgrade the necessary machines in your environment. Perform a test migration using tools like NovaBACKUP and Laplink's PCMover to document the process in advance. Build a realistic timeline for transition.


Backup Critical Data (Single Files/System Image)
Before making any changes to your workstations, use the latest version of a capable backup software like NovaBACKUP to capture your critical data in a secure format and location. File based backups make it easy to quickly access and restore what you need, while System Image backups should also be created. Why? Imagine your OS upgrade process fails half-way through, and you need to return the previous configuration. A disaster recovery image is the only foolproof strategy. Software like PCMover can help transfer applications, settings, and other useful data.
You've got your execution plan in place. When January 14th arrives – any machines still running Windows 7 should be disconnected from critical systems on your network and the internet if at all possible to avoid the scourge of malware. As the deadline passes by, some will insist that upgrading specific systems is simply not possible. In some rare cases, indeed it may be difficult (Example: While running a custom made, or discontinued software application). While not recommended, there are a few last-resort options in the event you have no choice but to remain on Windows 7 for a period a time.
If this your situation read our next Blog Post, "What to Do If You Can't Move from Microsoft Windows 7".