Options for Upgrading Windows Server 2008 R2
by Sean Curiel, on Jul 17, 2019 5:00:56 AM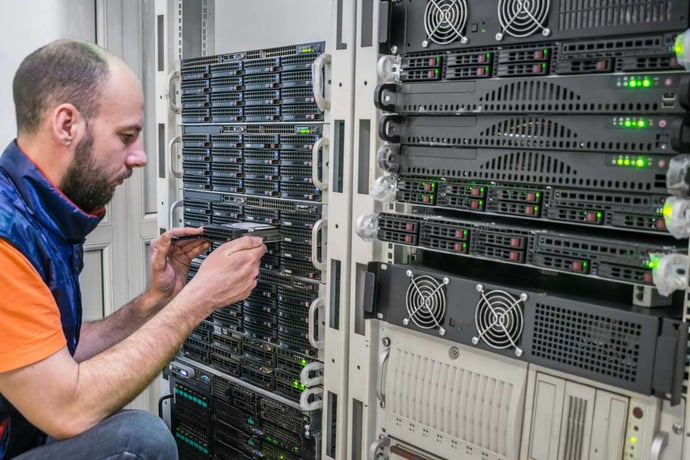 Nobody enjoys being forced to make major changes to their servers within a short timeframe. But Microsoft Windows Server 2008 and 2008 R2 is rapidly approaching its end of life and now is the time to bring servers current to ensure regular security updates, support and future bug fixes.
(Windows 7 support is also ending - read the 5 steps to prepare.)
Perhaps the reason some businesses procrastinate is because of the imposed schedule, the possibilities for data loss or disruption of business. But change is inevitable and the best approach is to bring an attitude of positive change to the table.
This is not to say that using your existing hardware is impossible. Cash strapped businesses may find it poor timing for even small IT investments. But trying to run a modern OS on a 10+ year old hardware is really only half of the problem. Let's look at the steps required for an in-place upgrade from Windows Server 2008R2 to Windows Server 2019: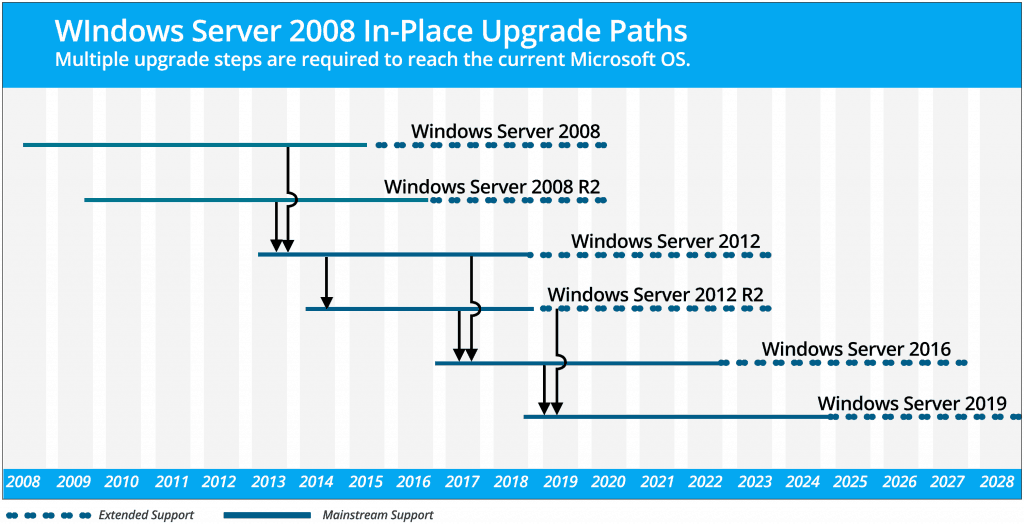 As we can see in the graphic, getting current with in-place upgrades from 2008R2 is possible via three upgrade steps:2008 R2 -> 2012 -> 2016 -> 2019. But ask most SysAdmins, and they will describe in-place upgrades as a perilous and problematic endeavor.
First of all, for an in-place upgrade to work properly the original OS needs to have been installed and maintained properly over time. Additionally, the current hardware must be supported by the new OS. When installing the OS upgrade, we are also depending on software creators having correctly taken your unique configuration into account and that all upgrade paths having been thoroughly tested. Then we must hope that no manual modifications have been made that could throw a monkey wrench into the upgrade process. Not what we would call bulletproof.
The other option is a fresh install and migrate approach. While some fear this as time consuming, it also offers extra advantages. An opportunity to take a critical look at aging hardware, data storage, and your virtual environment has now presented itself. If software and hardware upgrades become part your migration, then you are looking at significant enrichment of your IT environment.
The amount of time that migration may require should not be underestimated. You may need to consider moving one role, feature or application at a time over to the new Operating System. For small organizations it may be possible in a matter of days, while more complex environments could require months.
A few basic universal steps must always be taken to ensure migration success:
Analyze existing applications, workloads, and users and the resources required for migration. Pinpoint your legacy customized or internally developed applications that may complicate migration.
Determine the optimal destination for each application and workload. Will it require application software upgrade or utilization of cloud services? How will it differ following the migration?
Organize the systems to be migrated. Prioritize by complexity and investment to move them to the desired OS, taking into account the number of employees utilizing them and relationship to business revenue.
Create a comprehensive backup plan for data protection and security during the migration process. Speak to a backup expert today for data backup guidance.
Additional tools such as Microsoft Assessment and Planning (MAP) toolkit will take a profile of the network and analyze the Windows Server 2016 and prior instances to assist with workload migration planning.
You've created a detailed upgrade plan and disaster recovery image that you can quickly revert to. You are now ready to organize your calendar to meet the January 14, 2020 end of support deadline for Windows Server 2008 and2008 R2. Your IT environment will be all the better for it.