Microsoft 365 Backup Best Practices
by Sean Curiel, on Mar 6, 2023 6:02:52 AM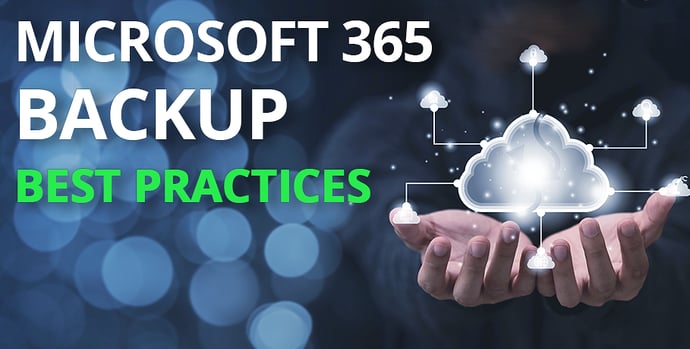 In the modern business landscape, cloud-based SaaS applications such as Microsoft 365 have become indispensable collaborative tools for organizations – whether they are an IT provider, corporation, or non-profit. They facilitate communication and productivity regardless of where employees may be physically located. However some businesses are surprised to learn that like any other digital asset, the data accessed by these applications is also vulnerable to loss or corruption. We've already covered the reasons that Microsoft 365 data must be backed up in our previous post.

In this blog post, we take a closer look at the best practices for backing up SaaS data in the cloud for the Microsoft 365 platform, and how following a few important steps can help your business to mitigate the risks of data loss due to accidental or even malicious actions.
Best Practice Recommendations
BACKUP SOFTWARE
Microsoft says, "We recommend that you regularly backup Your Content and Data that you store on the Services or store using Third-Party Apps and Services" (visible here in Part-6 of the Microsoft Services Agreement). Applications like NovaBACKUP's Microsoft 365 solution can offer enhanced layers of data protection and far more control over that data. In the event that Microsoft 365 were inaccessible, backup administrators can still quickly search and access user data, download it, restore or migrate that data.
AUTOMATION
While Microsoft 365 provides versioning for certain types of files, automated backups enables recoverability of critical data in the cloud to any point at which a backup occurred. The backup process is invisible from an end user perspective. Automation allows you to reach back in time and restore to the moment before your problem occurred at the granular level.
ARCHIVAL
Several common data privacy regulations (HIPAA, GDPR, CCPA) call for long-term data archival. For those who must meet compliance requirements for personal data, backups can be conducted continuously in real-time with a more advanced set of retention functionality. Furthermore, some recent updates to these regulations are now calling for the removal of personal data when it is no longer necessary – thus requiring the ability to quickly access archived data.
ENCRYPTION
Encryption will be absolutely necessary for backups to defend against potential threats and meet common compliance requirements for data privacy regulations such as HIPAA and GDPR. Ensure that your backup solution offers advanced encryption methods, encrypting data at rest and in transit, and that users are creating complex passwords and storing them in accordance with a secure, company-wide policy.
RETENTION
Your backup solution must let you define your unique data retention requirements according to the laws and regulations that apply to your organization and industry. Specific retention settings for different types of data should be thoroughly considered. Solutions should also offer additional flexibility such as the ability to put a "legal hold" on specific users to override retention settings in the event of litigation.
DOCUMENTATION
There should be a clear understanding of how to handle private information within your company. With a clearly defined emergency response team, little should be left to question during a data loss incident with documentation detailing roles and responsibilities. Document steps to be taken in an emergency, and the process of restoring data if the sysadmin is suddenly inaccessible.
TESTING
Backup and restore testing for Microsoft 365 data should be placed on the calendar, scheduled and performed regularly to verify backup restorability and the ability to quickly migrate it. Testing can help locate weaknesses or potential points of failure within your backup strategy, offering a chance to make course corrections and improve overall data security.
Following best practices for Microsoft 365 backup is critical for organizations of all sizes to ensure business continuity, access to data quickly, meet compliance requirements, and recover from a data loss incident. By implementing an effective backup strategy, businesses minimize the risk of data loss due to causes such as accidental deletion, malicious attacks, and hardware failure. (Download our recent eBook with Tips and Tricks for Microsoft 365 data backup.)
Ensure productivity, avoid legal and financial liabilities, and secure your most valuable business assets. By taking the necessary steps to backup Microsoft 365 data organizations can make certain that they are able to access their critical data when they need it most. Learn more about NovaBACKUP's solution for Microsoft 365 backup.

NEW eBOOK Download Available:
Must-Know Microsoft 365 Backup Tips and Facts (.PDF)