Latest Trends in Managed Service Providers
by Sean Curiel, on Jun 30, 2020 1:44:26 PM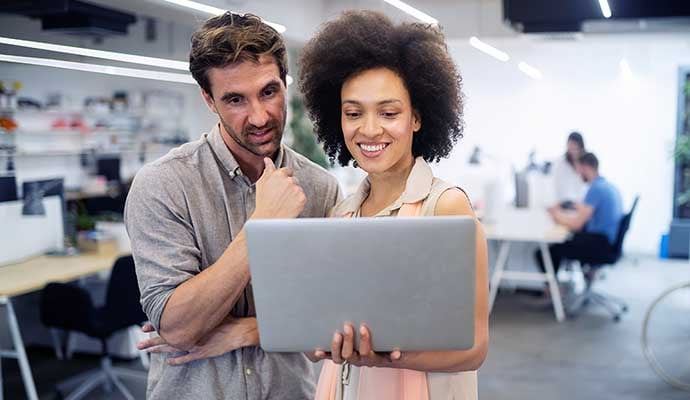 Organizations that partner with a managed service provider have become an inspiration for companies that have yet to discover the wonders of this management solution, including the integration of process, personal prowess, and technology to deliver and reinforce a business's services such as network, application, infrastructure and security as well as complex services like vendor management and subcontracting contingent staffing.

Enterprises working with the top managed service providers are motivated to yield items and services marked with higher quality and geared for customer satisfaction, since their solutions enable them to seize control of their operations by cutting down time, energy and effort spent on cumbersome repetitive tasks.

Besides the huge advantages vendors can gain from the adoption of an MSP tool, the normalization of long-term remote work post-COVID 19 has prompted businesses to turn to service providers.

NTT's Global Managed Services Report claims that if you're a managed service provider, you can expect to take in more work, since almost half of worldwide organizations are seeking to outsource more in the succeeding 18 months.

Additionally, 55% of these organizations look to managed service providers to protect their remote workers by reducing security risks.

Acting as one of the best practices to improve remote working, the acquisition of different types of managed services has become a necessity for businesses that wish to thrive in this pandemic era. Below, we highlight a few trends you can spot in top managed services providers as they take center stage in what society dubs as the new normal.
Rise in the shift towards web hosting and cloud computing



A managed service provider can unearth stellar opportunities as more enterprises persist in their transition towards hosting and cloud services.

Market Research Future predicts that the web hosting services market will thrive at a 15.9% compound annual growth rate per year from 2018 to 2023. It's also expected to hit $76.2 billion market value by 2023, a huge leap from $32.12 billion in 2017.

Meanwhile, Hosting Tribunal reports that by this year, the worldwide cloud computing market is geared to surpass $330 billion, with companies approximately allotting one-third of their IT expenses to purchasing cloud services.

Besides this, enterprise cloud expenditure is increasing. Figures show that 81% of organizations worldwide have already laid out or are currently working on a multi-cloud scheme. In addition to this, 81% of company workload will also be conducted on the cloud, which makes sense since an individual can utilize 36 cloud-based services on average per day.

Users of these services, particularly SaaS and application hosting services, will surely spend a good portion of their budget on managed services, since they bring a big boon of benefits for organizations that avail them.

For instance, software providers looking to implement multiple types of managed services in their organization can trust that they can tune their databases with regular and automatic upgrades across all hosting landscapes. They can also be sure of completely organized load balancing solutions as well as avant-garde safekeeping via cloud security and monitored application repository, to name a few.

For a managed service provider, the shift to these services translate to more profitable opportunities, so we recommend taking advantage of it as the times rapidly evolve.span>



Increased enterprise mobility



Through the years, businesses have witnessed a spike in enterprise mobility, with companies across the globe placing a sizable focus on business tactics and fundamental capabilities on the adoption and utilization of the bring your own device.

For ventures with on the go team members as well as remote workers, maintaining a secure connection while using mobile devices to obtain company applications and information can be a complex and resource-intensive challenge.

Companies look for solutions like a managed service provider to streamline the integration of smart devices into an enterprise and generate an environment that promotes staff empowerment with functions that securely communicate, construct and collaborate in a mobile working landscape.

Because of this, top managed service providers can expect a rise in the demand for streamlined mobility services, which most likely translates to driving the need for managing these smart devices.

Applications that help parents protect a children online such as content filters, password managers, and monitoring tools should be fully explored when setting up your child's access to the online world. But equally important is opening a dialogue with your child to discuss deeper moral questions, and to demonstrate what healthy online activity looks like. Use strong passwords, up-to-date antivirus and NovaBACKUP software to safeguard their data against cyberattacks and threats. By taking these measures, you will create a secure environment for positive interactions with family and friends.





Domination of IoT devices



Nowadays businesses attempt to harness the power of data to rake in more revenue, deliver improved customer experiences as well as effectively manage expenses. While the benefits sound great, plenty of companies continue to struggle in overseeing all the information they have in their hands, which is why they enlist the help of a managed service provider.

While there are a lot of types of managed services, a service provider's data infrastructure makes a huge influence on any organization's adoption. For instance, the growing prevalence of IoT devices supply establishments with more data to gather that can potentially affect their decision-making.

As IoT devices become paramount in any industry, businesses search for an MSP tool where they can outsource data-linked services such as managing an ocean of information. They also seek solutions that fuse device connectivity management functions into their own platforms and business procedures to ensure smooth scalability as well as tools that can guarantee security by safeguarding deployments from prying eyes and unwanted access through a virtual mobile private network.



Intensifying liability



Following numerous security breaches worldwide, leaders of organizations have been feeling the flames coming from a position that aims to hold corporate executives and directors accountable for breaches. There were some scenarios where security breaches even cost non-IT top dogs to lose their livelihood, partly as a result of intensifying laws and policies surrounding security.

Heads of establishments and firms worldwide are facing increased inspection regarding cybersecurity, which has forced them to turn to tools that improve data security. Likewise, if this movement gains ground managed service providers can be heavily scrutinized if a breach happens under their guard.

This is why types of managed services that tackle cybersecurity are beginning to strengthen their functions and features, so that they might remain compliant with the law while still providing the most ideal services for their clients. Managed service providers are collaborating with the appropriate vendors and placing all essential controls in place in order to effectively protect themselves and their customers.



Privacy is becoming a bigger concern



Laws and regulations worldwide have been more focused on protecting the privacy of people online. For instance, Europe has adopted more stringent privacy policies under the General Data Privacy Regulation. In the USA, California has implemented the California Consumer Privacy Act to protect the state's citizens from prying eyes.

Upon the onslaught of these laws, people can expect more regulations to follow in different parts of the world, which is why there should be high value placed in understanding these laws that demand compliance and entail penalties should there be a breach. With challenges such as natural disasters, malware and privacy restrictions, managed services providers, manage services providers must be ready to stand up and address these obstacles to the best of their abilities.

As we go forward in the digital age, privacy becomes more and more of a concern, and enterprises ought to keep this in mind as they gather and process consumer information. In order to retain present clients and gain new customers, providers of MSP tool need an enterprise-wide security solution that can address modern-day security roadblocks and demands. It must also be flexible enough to rise up to the security challenges and consumer needs of tomorrow. By catering to these concerns, managed service providers can set up a robust market differentiation, broaden their presence in present accounts as well as increase market shares.

Going with the flow
Life is never boring in the industry, especially with the latest trends that stemmed from the COVID-19 pandemic. This is why IT providers offering managed services need to pay close attention to emerging trends to make sure that they won't be left behind and disregarded by prospects and current customers. They must adapt to the new normal and make sure that they can offer only the best for their clients while sustaining their own enterprise as the landscape constantly and relentlessly evolves.
To learn more about the latest managed backup trends, speak with a data protection expert at NovaBACKUP today.