RAID, Backup and Drive Recovery Services
by Sean Curiel, on Feb 13, 2020 6:00:00 AM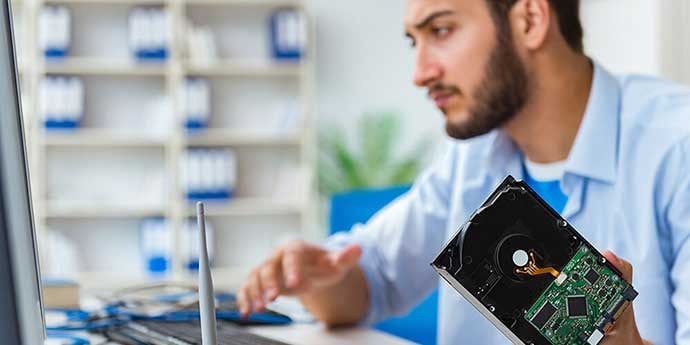 With all the technologies in the world of data security, a few specific ones pop-up repeatedly as default methods that customers use to recover lost data.

We're lucky to live in a time where data recovery services stand a fighting chance at recovering data off our failed drives. Of course we hope it never comes to that. All drives will eventually fail or be destroyed. Your first few years of drive use the reliability is usually pretty good, somewhere between 1-3% annual failure. Add more years and the failure rates start to rise, add more drives… and you can see where this is going. Then, considering the failure rates of other aging components (controllers, etc.) and it becomes clear that your backup process must operate like a finely tuned instrument.
My RAID has got me covered.
We've talked about RAID before. RAID of course provides great security against a single type of failure. But there's a whole host of things it doesn't protect against:
Human error / deletion
Malware / Ransomware
Software Errors / Corruption
Controller Failure
Multi-Drive Failure
...and more.
RAID arrays are great for fast recovery when a drive fails, but must be considered an important complement to your data protection rather than a "go-to" recovery method.
Professional Backup Solutions
You take great care to protect your business assets, from the firewall to the fire extinguisher. For most businesses, there is no asset more valuable than their data. And the cost of a seamless data backup strategy will save you frustration, and more importantly – time. We won't get started today on the limitations of free Windows server backup solutions.
Let's look at the cost of a typical professional backup solution with storage:

SOFTWARE:
NovaBACKUP for Servers (or NovaStor DataCenter): ~$200/mo
LOCAL / OFFSITE STORAGE:
Buffalo TeraStation 5410DN Desktop NAS 16 TB NAS: ~$1200
CLOUD STORAGE:
NovaBACKUP Online Cloud Storage: ~27/mo (100GB)
In this scenario we see an initial backup investment less than $4000. And since Buffalo Network Storage Devices (NAS) come with Hard Drives and pre-configured RAID included, you've added an additional layer of protection while saving time (configuring RAID can take up to 72 hours)! Many Buffalo storage devices even include NovaBACKUP software to help get you started.
Recovering Data from a Dead Drive
Estimates of single-drive recovery costs all over the map, with businesses quoting anything from $300 to $3000 (assuming data is recoverable). Often this is avoidable if backup is being performed to multiple destinations, saving the hassle, downtime and sense of powerlessness and downtime of failed disk recovery. Make no mistake about it, it should be considered a last resort.
A redundant array of independent disks (RAID) and disk drive recovery services both play important roles in data security. But the foundation of your data protection and the key to the uninterrupted productivity of your business always remains to be a finely tuned backup solution.