NovaBACKUP Launches Cloud Data Center in Canada
by Sean Curiel, on Jan 21, 2021 6:36:39 AM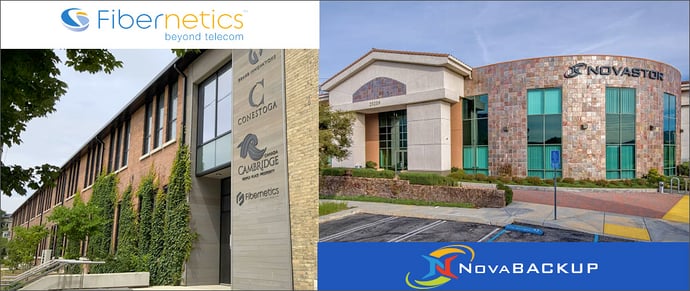 A new partnership between NovaBACKUP and Fibernetics creates convenient access for Canadian MSPs to secure, encrypted storage.

With the ever-increasing danger of ransomware and other cyber security threats, securing critical data within its country of origin has become an important part of meeting data compliance regulations. To help meet this requirement, NovaBACKUP and Fibernetics have joined forces to provide secure, encrypted cloud storage to Managed Service Providers across Canada. Canadian MSPs utilizing cloud storage at NovaBACKUP's new Canadian data center can take comfort that they are taking every precaution in order be compliant, but are also now better positioned to respond to any bandwidth challenges created by the modern work-from-home scenario.

"We're excited to launch our Canadian DataCenter housed with Ontario Canada Fibernetics to deliver faster access, constant data availability and data sovereignty to our MSP partners and their customers in Canada", said Mike Andrews, CEO at NovaBACKUP. "Canada is a natural extension to our cloud business strategy and demand for our solutions has been growing substantially", added Andrews.

"Fibernetics is looking forward to supporting NovaBACKUP's expansion in Canada with access to our dedicated, controlled and secure cloud hosting and storage services. NovaBACKUP's data will be hosted in a share-nothing server architecture and connected to the best network routes in North America via low latency, redundant fiber optic transport links.", stated Jody Schnarr, Fibernetics's CEO.

Relaunched in 2019, NovaBACKUP Cloud was designed specifically for MSPs who require a flexible solution with both local and cloud-based backup functionality. Affordable licensing and all-inclusive pricing models have been tailored to fit the ways in which MSPs are offering their services.
When a data loss incident takes place, vendor support response time and their level of expertise can drastically affect the outcome. Because of this, senior level backup experts with a minimum of 5 years MSP industry experience have been assigned exclusively to support the NovaBACKUP Cloud solution.

MSPs enjoy the freedom to select the storage methods and devices which best meet their needs. Whether customer data is hosted in their own cloud or alternately taking advantage of NovaBACKUP's hosted cloud, NovaBACKUP provides the backup features to protect Windows systems, applications like Exchange and SQL, and even Virtual Machines. A convenient web-based central monitoring console provides status at a glance, and numerous administrative features.
Learn more about NovaBACKUP Cloud for MSPs from a backup expert today.