Medical records moving digital...Are your files protected?
by Bridget.Giacinto, on Oct 4, 2013 10:24:08 PM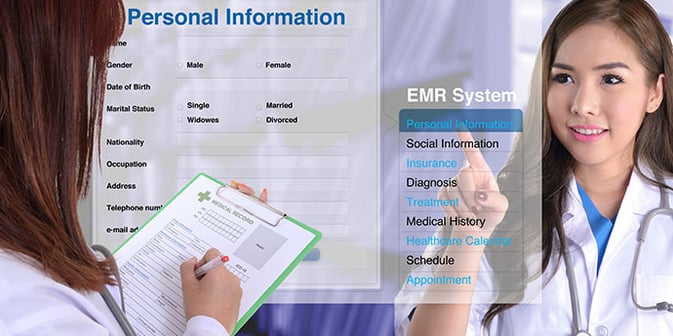 The United States started moving towards the digitization of US medical records back in 2009. With the onset of ObamaCare, all doctors were required to go digital, but what did that mean for our medical records? Fox Report addresses concerns about the medical privacy of our digital health information. This report brought up a lot of questions to ponder. Will our medical records be safe? What happens if our records are hacked or infected with a virus? Are our medical files protected if lost or accidentally deleted? What is being done to ensure that our data is properly backed up?
As medical records move digital…Security of our personal, private data will become increasingly important. The whole idea that hackers could access our data is a serious concern. According to a B2B International survey, 35% of IT specialists said their companies had data loss due to malware infection – the most common external threat. With our medical records going digital, data security is going to need to move to the next level and it's no wonder that privacy experts are calling for stronger safeguards.
According to a new study by the Paremon Institute healthcare organizations are struggling with a lack of technology, resources, and trained personnel to deal with privacy and data security risks. An astounding 94% of survey respondents within the healthcare industry reported at least one data breach in the past two years. That is a scary statistic!
According to the same study, each of the participating healthcare organizations experienced an average of 4 data breaches in the past two years. With an average of 2,769 lost or stolen records per breach, our data is simply not as secure as we would like to hope. The most common types of patient data lost or stolen are medical files, billing, and insurance records – all of which contain highly confidential data. Stolen data puts patients at risk for identity theft, and loss of data could mean the difference between getting approved for a medical procedure or not.
If data loss is such a prevalent issue in the healthcare industry…What is being done to ensure that our medical records are properly backed up to protect against loss? Without a hard copy to fall back on, ensuring that our data is protected with a formal, industry-best-practices backup plan is paramount.
Data protection and data backup are integral parts of IT operations – maintaining multiple copies of data (local and remote) is crucial for securing data and minimizing the possibility of loss or downtime. Having a formal backup policy in place, whether you are in the medical field or not, needs to be a priority.
The reality is, no one wants to experience data loss – so the question becomes…What are you doing to protect your company data? If you have not established a formal data backup strategy, it's time to create one. For small companies, with little or no IT staff, it may be a matter of not knowing how or where to start. If you need help setting up a formal backup strategy using industry best practices, NovaBACKUP can help. They offer complete data backup protection software for both file and image-level backup (with virus protection and data backup encryption) and disaster recovery.