The Cost of Self-Hosting VS. Managed Hosting for MSPs
by Sean Curiel, on May 26, 2020 1:48:24 PM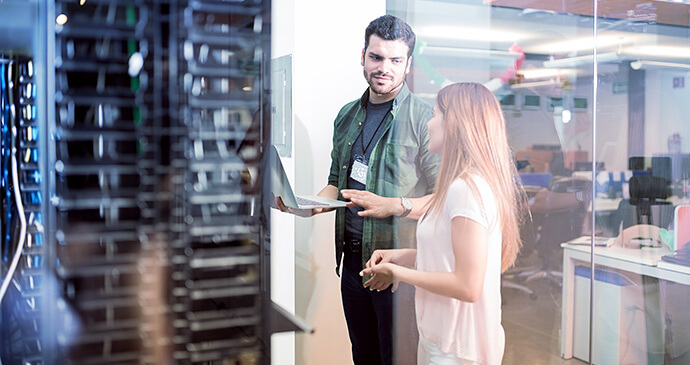 IT providers continually modify their environments to improve services for their clients. When it comes to offering backup & disaster recovery as a managed service those changes can be significant. The costs to the MSP will be determined by not only hardware and software but also the manpower to manage it, environmental needs and even third-party services.

The decision of whether to host data locally on-premises or to select managed hosting, shouldn't be taken lightly. Your solution will have its own unique set of requirements, benefits and drawbacks. So, what path is best for you? Today we look at the factors that affect costs to MSPs for hosting their client backup and disaster recovery data.
Infrastructure
Flexibility
Maintenance
Security
Staffing
INFRASTRUCTURE
ON-PREMISES: All hardware and software is purchased and managed in your location. Typically, this includes servers, data storage, network connectivity and load balancing. But other factors such as power (cooling) and offside data redundancy can't be overlooked. Benefits include the greater control and access, as well as time to implement changes. Procuring replacement equipment takes time in this scenario, which can result in performance lag or paying for unused capacity.

TECH TIP: MSPs utilize the most secure SAN and NAS storage devices on the market to secure customer data such as those built by Buffalo Americas.

MANAGED: In a hosted solution, you bypass the large upfront costs of storage and networking hardware but incur a recurring cost based on features. You obtain the ability to add new servers, upgrades and services at the drop of a hat. Features like data redundancy (with offsite data duplication) and power redundancy are to be expected. A sacrifice in access allows for a more simplified on-site IT environment.
FLEXIBILITY
ON-PREMISES: The MSP has no dependence on third-party staff in order to access data. Complex storage solutions, such as backup for custom software or legacy applications are implemented based on your demand. Applications and services can be balanced in line with your own hardware resources on a granular level.

MANAGED: The ability to provision new servers quickly makes it highly scalable. Without the onsite hosting infrastructure to worry about, businesses can more easily scale their business up/down based on market demands. Your specific hosting plan restrict certain functionality based on cost, and this must also be considered.
MAINTENANCE
ON-PREMISES: The solution is managed (applications, upgrades, backup, patching, etc) and monitored internally by trained team members. Potential threats must be monitored constantly however immediate action can be taken due to accessibility. The potential for downtime depends greatly upon the unique safeguards put into place at the location.
MANAGED: Managed hosting, as the name implies, will include your OS setup and ongoing maintenance (upgrades, service packs) of the infrastructure. Depending on your plan, some level of monitoring and support is expected. Hosted solutions often advertise a 99% up time guarantee. While not all providers are created equal, it's fair to say that the larger ones have many layers of redundancy built-in.
SECURITY
ON-PREMISES: MSPs may be reluctant to send private customer payment information through a third party, thus on-premises hosting keeps security responsibilities and liability internal. Beyond the security infrastructure required to prevent intrusion, security certifications may also be required to meet strict industry standards. A firewall (virtual intrusion) and security personnel (physical intrusion) and safeguards will be necessary.

MANAGED: Security is often the greatest concern regarding hosted data. Managed hosting should provide you with 24/7 security, with data resting behind the providers' firewall under multiple layers of protection. Not only digital security but the physical security must be included with controlled access to infrastructure and even security cameras. Additional compliance paperwork may be required when trusting a third party with private customer data.
STAFFING
ON-PREMISES: Additional team members and training will be required to maintain an on-premises solution and this can be costly, especially when accounting for turnover. These team members will require time to research and implement new technologies as they are deployed. However, you having direct access to those maintaining client data also has tremendous value. (See the What's the Average IT Service Desk to Employee Ratio? Blog at SolarWinds)
MANAGED: The quality of staff dealing with your account (and data) will vary based on the provider and your level of priority. Having an outside party handle hosting services frees up your internal team to focus on the most important tasks at hand. The team handling your account should be accessible 24/7 in the event of an emergency.
We can see that a direct comparison between self-hosted and managed hosting of backup data is not an easy one, and most MSPs will end up with some type of hybrid solution between the two. Take each cost factor into careful consideration and consult with NovaBACKUP engineers for recommendations. NovaBACKUP Cloud for MSPs offers the flexibility to host data onsite, at a collocation, or even using our cloud storage services.