MSP Challenges: Building Trust with Prospects for Managed Backup
by Sean Curiel, on Feb 18, 2021 6:15:09 PM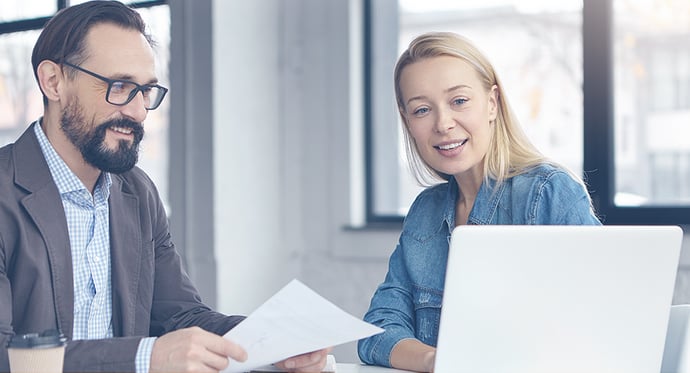 Growing new business often requires filling your MSP sales funnel as part of your sales process. A typical MSP sales process might flow from lead generation to initial contact, presentation / demo, and finally an attempt to close the sale. But without the proper relationship building in the early stages, MSPs will find their win/lose ratio sorely lacking. This is especially true when it comes to data backup, as trust in the support team behind the technology solution is so important. Connecting with your sales prospects on a personal level, while also communicating the value you'll provide their organization is what it often takes to seal the deal.
Today we look at 8 important elements of building trust with prospects to close new business and create long-lasting relationships.
Listening
Organizations these days have so much information coming at them. Odds are that if you've established an initial meeting, they already know enough about you to consider you a potential partner. Let them know what you are all about, certainly, but the client should be doing a vast majority of the talking. Encourage them to discuss problems they've had with prior vendors, find out what their expectations are and what their plans for growth look like. Follow a general philosophy of 80% listening and 20% asking investigative questions. Pinpointing a specific way in which you can differentiate yourself from the competition is helpful in early discussions.

BACKUP SALES TIP: Find out what is important to the prospect regarding types of data, what is most critical to access in a disaster scenario, and their understanding of regulatory compliance.
Honesty
Sales people probably get a bad rap for being dishonest, and most don't fit that "used car salesman" stereotype. But to close a sale confidently, a prospect must not only trust you – but actually have faith in you. Honor your commitments and promises, for phone calls, meeting purposes and even meeting length from day one. Demonstrate real empathy in the problems your prospects are facing, and follow it up with your approach for a resolution. Your approach might not always match their expectation, and that's fine as long as you can demonstrate the reasoning behind your methods.
BACKUP SALES TIP: Give the prospect an example of a time where you took responsibility for a mistake, owned up to it, made adjustments, and improved.
Respect
According to the Harvard Business Review, B2B buyers rated just 18% of salespeople as advisors whom they respect. The primary reason as you might expect was that sales people come off as focused only on revenue and generate too much pressure to purchase early on. Conversely, a prospect is willing to respect a salesperson's initiative once they have built a close connection. A salesperson must respect the process that a business goes through to make a purchase, and never talk-down to a prospect.

BACKUP SALES TIP: Your understanding of their business exhibits sincerity. Review blog posts, company news, and even social media profiles of your meeting guests. Demonstrate knowledge of their industry ad the regulations they must abide by.
Content
Do you know what interests your prospect? Identify the technologies, regulations, and trends that the prospect considers important and share relevant content and insights that they will enjoy - without asking for anything in return. After all, you're trying to develop a relationship beyond being a "sales rep". Not only will it open the door to conversations surrounding your services, but it builds a reciprocity. This, in turn builds trust.

BACKUP SALES TIP: Showcase a recent customer success story (Ransomware catastrophe averted, downtime avoided, corrupt data restored) but first make sure that clients environment closely resembles that of your prospect.
Audit / Assessment
Demonstrate your abilities by providing a free assessment of their environment. Not only does this provide deeper insight into their needs but also allows you the opportunity to explain how your services will solve problems, provide value and save them money. In the case that they aren't yet ready for your services, you've strategically positioned yourself as a valuable, enthusiastic resource that can help them reach their goals.
BACKUP SALES TIP: Many organizations opt to offer an assessment-light version with a paid intensive-audit option. Depending on your type of client and time-investment required this deep-dive can further reveal shortcomings that your services resolve.
Technical Expertise
Your style and presentation should match that of the audience. So, while not applicable to every meeting, enlisting the help of a technical specialist or two has potentially high value. These experts should understand your technologies end-to-end and be able to explain how they apply to the prospects environment. Beyond just being a source of technical advice, these resources should inspire confidence. If problems should arise during the deployment of services, it should be clear that their expert problem-solving skills will be able to guide the ship through rough waters.

BACKUP SALES TIP: Your backup expert should be able to gather intelligence about the prospect's needs, relate their industry to presentations, and ensure a successful backup services trial.
References
Customer testimonials are often cited as the most valuable piece of content, but this is only true if it is relevant to the prospect and introduced at the right time. Using great customer references can increase the chance of closing a sale if the referrer comes across as genuine, and clearly demonstrates how a problem was solved. While references alone may not be enough, once the major roadblocks to success have been neutralized, they can be used effectively as part of your closing process.

BACKUP SALES TIP: Offer the prospect a chance to speak with one or two of your customers, and ask what they want to get out of the call. It may reveal what is required to close the sale.
It's easy for managed service providers to focus a majority of their efforts on retaining customers and delivering quality services. If you are doing this successfully then your prospects probably already know that you have the technical ability. But an equal amount of energy must also be put into building prospect trust to close new business. Following these methods will go a long way in taking your relationships, and your profits to the next level. Our team of technical experts is available to work with you to side-by-side evaluate client backup environments. Speak with one of our experts to learn more about offering backup as a managed service with NovaBACKUP Cloud for MSP's.