Backup Appliance Advantages
by Sean Curiel, on Jun 2, 2022 6:11:00 AM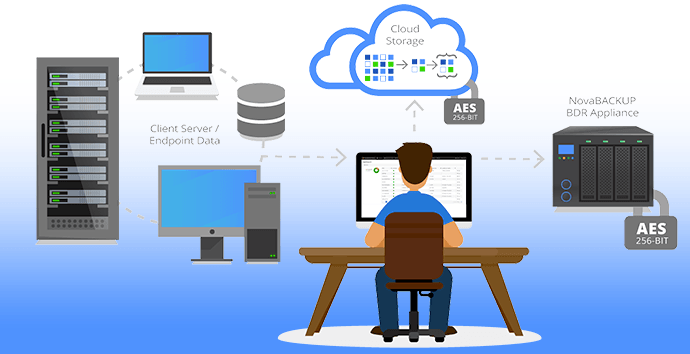 IT services providers understand the importance of backup & disaster recovery (BDR) solutions for their clients. They often build highly customized BDR solutions for the customer with the best intentions, to meet perceived future needs. While this may be necessary for some environments or MSP strategies, complex solutions can also work against an MSPs ability to manage and restore data quickly when disaster strikes. Having a highly streamlined drop-in BDR solution as an option to cover the vast majority of MSP clients has the potential to improve customer experience and increase recurring revenues.
What does a BDR solution typically look like?
Backup and Disaster Recovery (BDR) solutions provided as a managed service, can take many shapes and sizes. The overall goal is to return a business that has been hit with a disaster (data corruption, deletion, or infection), back to operational status. This means that a copy of the customer's data should, at minimum, be sent to and stored in a secure cloud environment. Greater restore speeds will also be achieved for an organization with fast access to a local data backup. An additional copy (mirror) of data may be sent to an offsite location for redundancy and further protection against ransomware.
What advantages does a BDR appliance offer an MSP?
Providing both a software-based BDR solution and a BDR appliance solution to our MSP partners gives them maximum flexibility to implement either, or a mix of solutions to meet the needs of their customer base. But why should MSPs seriously consider a BDR appliance as their go-to option? How does it improve its service offerings on multiple fronts?
Deployment
Deploying a new managed service with a customer could be time-consuming or disruptive. There's no need to start delivering BDR services out on the wrong foot. A turn-key solution that includes all components, pre-tested for compatibility and efficiency, can save MSPs valuable time and effort.

When clients move forward with BDR services, there is often a pressing need whether a recent failure or a current lack of protection. In these cases, the speed at which BDR can be delivered cannot be overlooked. A fast, seamless integration also has value in establishing confidence with the MSP early in the relationship.
Regulatory Compliance
Many MSPs find great success when focusing their business strategy on the type of customers that naturally gravitate towards them. This means tailoring their services to specific or niche industries such as healthcare, dental, legal, and financial industries – all of which must meet strict requirements to comply with the latest privacy laws.

BDR solutions that utilize multiple technologies, locations, and backup types, raise questions about end-to-end compliance with data privacy regulations. Appliances undergo a rigorous testing process that supports compliance standards. Additionally, the backup vendor must undergo training and certifications to correctly support their MSP partners as they configure BDR appliances for privacy requirements. BDR appliance solutions, such as the NovaBACKUP BDR Essentials Appliance, remove the compliance guesswork.
Backup Management
Most BDR solutions offer a form of monitoring or management. Backup administrators ask for both accessibility and flexibility for managing the data security of an entire organization, let alone numerous clients.
Accessibility to understand the current status of a client's backup jobs at a glance, regardless of the location of backup administrators. Flexibility to create roles and responsibilities within that management to match the needs of the MSP. The ability to monitor and manage multiple BDR appliances simultaneously (and therefore clients) creates a simplified management structure that directly affects an MSP's cost to manage backup services.
Technical Support
BDR solutions built using client hardware are subject to the response of numerous vendors, methods of support communication, and response times. A purpose-built backup appliance consolidates support down a single hardware vendor that can replace hard drives or other components quickly and efficiently.

A support engineer's time is at a premium and is limited now more than ever. Eliminate the time spent supporting mixed solutions and allow MSP technical team members to become specialists.
Cost Predictability
Fully customized solutions require an MSP to spend up-front on hardware, investing in a solution for a situation that may change. Appliances offer a low-cost monthly payment that gives MSPs the ability to better plan for their expenses and expected profits.

It also takes time to build a solution from scratch. Overspending is another common misstep, and the solution must be fully tested to meet performance expectations. This is time that the MSP could spend elsewhere. A BDR appliance lowers the total cost of ownership for the client while delivering a more fully optimized backup solution.
Managed Service Providers must carefully weigh their options when determining what type of BDR solution is best for their customers. Does a BDR appliance have the potential to faithfully serve a vast majority of an MSP's customers while also reducing management and support costs? Questions like this, that directly affect revenue, are worth exploring. The best of both worlds can be achieved (a drop-in appliance, or a software-based solution) with backup and disaster recovery solutions provided by NovaBACKUP. Speak with one of NovaBACKUP's data protection experts today.