Are You Getting Enough VALUE from Your Backup Solutions?
by Mike Andrews, on Mar 17, 2014 9:21:04 AM
Today I would like to discuss VALUE. Value can be viewed as the importance, worth or usefulness of something. Each person has their own unique measures of value. It is basically, your personal barometer of what is important in life. When it comes to backup, VALUE can be looked at from several different perspectives.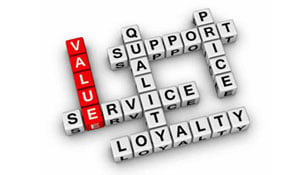 VALUE of critical data – If you're a small business owner (or a reseller partner to one), I can guarantee that you have critical data that needs to be protected. Critical data can be your customer database, your business transactions, or your latest presentation/proposal. If you're a dentist – your x-rays or if you're a tattoo artist – your art work. As the saying in our industry goes, "It's never a matter of

IF

you will lose your data. It's a matter of

WHEN

you will lose it". If you're not prepared, that is unfortunately when you will find the true VALUE of your data. The pain of recovery can range from a few hours of data re-entry all the way to complete and total catastrophe – all levels directly affecting your ability to focus on your business.
VALUE of having a Backup - There is zero apparent VALUE to backup until you lose your critical data. But, if you were actually prepared and had a proper backup in place, at that moment, there is very little else that is more valuable. Like winning in Vegas, everyone loves to share the story of their victory reminding themselves and anyone else who will listen about their wonderful achievement. In fact, the majority of the VALUE in this case is the fact that YOU prevented disaster. It's a proven fact that most backup software is sold after it is too late and the data has been lost. Once stung, people are more receptive to prevention. Once bitten, twice shy. There is just no good excuse to risk not having your critical data protected.
VALUE of the right Backup Partner/Product – Price should never be your first consideration when selecting backup solutions, although if all else is equal, it can be a deciding factor.
Things to consider when selecting a backup Partner/Product:
Right Solution – Does it do everything that your small business requires in a single solution? Using multiple backup solutions to perform a single task can prove to be very complex.
Reliability – There is no VALUE if it doesn't work or you don't know how to make it work.
Price – Is it fairly priced compared to similar solutions?
Reputation – Research before you buy. How long has the company been in business? Are their achievements recognized by 3rd parties (awards/reviews)?
Support – Pre-sales and post sales. Is it locally supplied by the vendor or is the support call center outsourced offshore where there is high turnover and limited product knowledge? How long after purchase is the product supported?
Warranty – Are there any money-back guarantees?
Extra Mile – Are they willing to install the product for you? Do they offer free phone/email/web support?
VALUE presents itself in several different ways. In 1983 a company called Hyundai introduced itself in my hometown. A South Korean car manufacturer? Half the price of any other car? People were immediately on the defensive. Surprisingly, the car actually managed to become one of the bestselling automobiles that year and managed to sell 5 times more units than predicted. The car was not the best looking, but there were no similar cars in this class that could compete in this price range. Quality soon became the issue and it almost ended their existence. There was little VALUE in a car that you couldn't depend on and it became the joke of the industry just as fast as its original success. The naysayers finally had their moment and were quick to turn on this "disruptive" venture. Hyundai had the right solution and the best price, but lacked in the areas of reliability, reputation, support, warranty and going the extra mile. Reputation is the most difficult to earn, but instead of giving up, Hyundai changed the things that they could change immediately. They could have just packed up, but instead they listened to their customers and took care of their issues with reliability, support, and going the Extra Mile and then announced an industry changing 10 year warranty. We all know where their reputation is today.
NovaStor is dedicated to providing VALUE to the "Rest of Us," which is made up of a large population of underserviced and often undervalued market of small business owners, IT heroes (every business has one) and resellers/service providers that work day in and day out servicing small business owners – providing the greatest levels of service, reliability and VALUE.
NovaStor challenges anyone to find a better backup VALUE on the market today! In the near future we plan to announce our own industry changing technology that will make you wonder if our VALUE is just too good to be true.
Farewell until next time, when the "Rest of Us" meet again!