A New Backup & Disaster Recovery (BDR) Solution
by Sean Curiel, on Dec 16, 2021 10:52:27 PM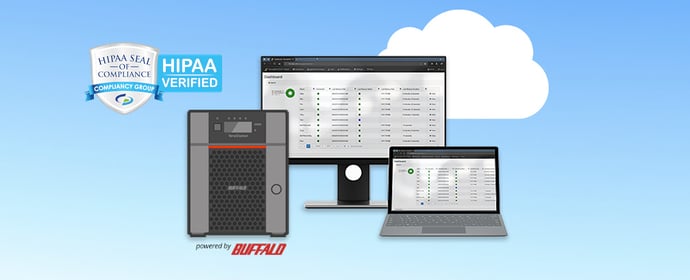 Hardware, Software, Cloud and Support Bundle with a Low Cost Monthly Subscription
NovaBACKUP's BDR Bundle is a turn-key, feature rich- BDR appliance backed by industry-leading software, hardware, and support. The bundle, created in partnership with Buffalo Americas, is designed for managed service providers who offer local and cloud backup as a way to get clients into a reliable BDR plan with a low cost monthly subscription.
The NovaBACKUP BDR Essentials Appliance includes award-winning backup software for Windows systems, virtual machines, Microsoft SQL, and Exchange, utilizing hardware and storage built by Buffalo with 8, 16, or 32TB of local storage along with NovaBACKUP-hosted cloud storage.
"With cyberattacks on the rise, a disaster recovery plan is essential for all businesses, regardless of their size. As a vendor of the market's most secure NAS, Buffalo has long sought to provide a means for small businesses with limited IT budgets to enable a professional BDR plan. Therefore, we are pleased to team up with NovaBACKUP in offering a professional turnkey BDR appliance at a low monthly price so small businesses can enjoy the same data protection that enterprise-sized companies do.", says Arata Nakamura, Buffalo Americas CEO.
Qualified, Local Support
MSP data protection challenges must be handled by data security experts, never farmed out to distant call centers. The NovaBACKUP support team is locally based, staffed by backup experts from the managed services industry who are dedicated to helping you keep data protected. When it comes to managing any BDR appliance, the importance of having a true partnership with your vendor cannot be overstated.
Local Storage Included
Your BDR solution Includes a 4-bay desktop Buffalo TeraStation WS5020 with plenty of local storage options. Select between 8TB, 16TB, and 32TB of local storage (pre-configured with RAID) , including Windows IoT Server OS, and bundled with cloud storage starting at 500GB. This flexible and scalable appliance provides a backup storage hub for your clients' growing data without "forklift" requirements for an upgrade.
Cloud Storage Included
NovaBACKUP-hosted cloud storage gives you a secure offsite secondary backup destination in the cloud to strengthen your clients' backup strategy. HIPAA, FERPA, GLBA and other industry strict industry requirements are met for highly regulated industries, including Healthcare, Dental, Education, Accounting and Legal.
"We listened to MSPs, and what we heard was their calls for pricing transparency, software flexibility, and superior customer service"— Nathan Fouarge, VP of Strategic Solutions at NovaBACKUP
Service your clients with a reliable BDR solution built by the backup and storage experts. Transparent low-cost monthly billing and support for highly regulated industries make this appliance the perfect complement to your managed service offerings. We invite you to speak with our team about testing the NovaBACKUP BDR Appliance in your environment today.