Upgrading with Confidence - Windows Server 2012 R2 End of Life
by Gabriella Sola, on Aug 16, 2023 12:53:36 PM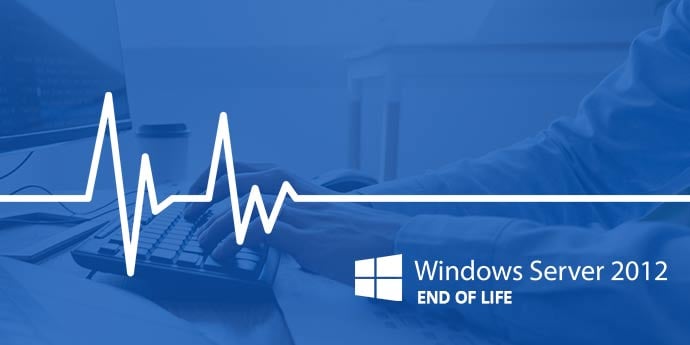 With every day that passes, the inescapable end draws closer: On October 10, 2023, the time has come, Windows Server 2012/R2 will finally lose its support.
This has profound implications for the security of your IT infrastructure and the smooth running of your business processes.
Do not compromise your data
The departure of Windows Server 2012/R2 means, among other things, that no more security updates or bug fixes will be available, and customer support will also no longer be offered.
This opens the door for cyber attacks and potential data loss. Hackers are given a larger attack surface, and your company data could be at risk. A horror scenario that no one wants to experience.
Attacks via the router or the Internet can pose significant security risks to your network. Cybercriminals specifically exploit vulnerabilities such as insufficiently updated software or operating systems to penetrate and manipulate sensitive company data. This could have a serious impact on your operations and your company's reputation. It is critical to guard against these risks.




Malware from email clicks. Insecure emails can contain malicious attachments that, if opened, can compromise your entire server and systems. Cybercriminals use this method to gain access to sensitive company data and cause potentially serious damage. Such an attack could severely impact your operations and jeopardize the trust of your customers.
USB flash drive/CD threats: Malware can spread by plugging infected external storage devices into a computer. Cybercriminals use this approach to introduce malicious software into your system, potentially leading to data breaches and operational disruptions.
The Backup question: But switching to a new server version alone is not enough. It is critical to ensure that your backup software is fully compatible with the new server. In the worst case, a faulty backup can lead to data loss and put your company in a precarious situation.
Our solutions for a smooth server transition
To alleviate your worries and ensure a successful upgrade, we offer our support. Our backup software is designed to meet the requirements of Windows Server 2016, 2019 and newer. With our extensive expertise and proven solutions, we are here to help you prepare for the server change and guarantee the safety of your data. You can find more information here.
Download our ebook with detailed instructions on how to best prepare for the upgrade to a newer Windows operating system.
Don't forget to take a look at how to install the new server operating system: https://learn.microsoft.com/en-us/windows-server/get-started/install-upgrade-migrate
Our support team is available during the process and will be happy to answer your questions.
Don't hesitate any longer, act now to protect your business from the threats ahead! Let's work together to ensure the security of your IT infrastructure and equip your business for a successful future.
Do you already know our free trial versions? We will give you an insight into our backup solutions.