Windows Server 2003 End of Life: SMB Preparation
by Bridget.Giacinto, on Mar 12, 2015 8:48:01 AM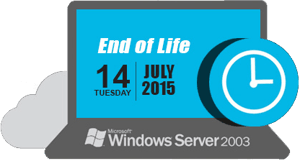 Potentially millions of servers are still utilizing the wildly successful Windows Server 2003 operating system, now in its 12th year of use. As we rapidly approach the deadline from Microsoft on July 14th, 2015 – for end of life on extended support for all versions of Windows Server 2003/R2, small and medium sized businesses are evaluating the best course of action to take.
Just as with Windows XP, businesses may be reluctant to let go of a trusted operating system, but the Windows Server 2003 end of life may present even greater challenge to small businesses.
Fortunately the technology has come a long way in the decade-plus of Operating System and hardware development, and taking advantage of the opportunity to move to more modern technology holds significant benefits.
But what does the end of support for Windows Server 2003 actually mean? There are a few major implications;
Updates:
Microsoft will no longer develop or release patches, bug fixes or security updates following the end of support deadline, creating performance issues and major security complications for any business running Server 2003.
Vulnerabilities may arise from viruses and spyware, with an unpatched operating system leaving you susceptible to malicious attacks.
Compliance:
Windows Server 2003 will no longer meet industry-wide compliance standards and will fail audits such as PCI (Payment Card Industry Data Security Standard), risking a loss of business and penalties from non-compliance. Medical organizations risk breaking HIPAA security rules as the security of patient healthcare information (PHI) can no longer be assured.
Application and Hardware Support:
As Windows Server 2003 becomes unsupported, so too will a large number of software applications, including all Microsoft applications. Third party software and hardware vendors will no longer support Server 2003, meaning you could be stuck without the ability to upgrade existing applications or add new hardware devices. If the unsupported operating system were to fail, applications may not be recoverable.
Prepare for Windows Server 2003 End of Life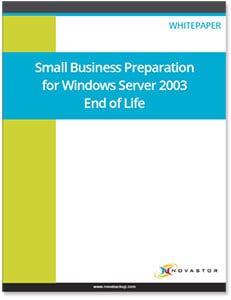 So the question becomes, what can small businesses do to prepare? Download our whitepaper on Small Business Preparation for Windows Server 2003 End of Life to find out how businesses that rely on Windows Server 2003 can best prepare and protect their data.
Learn the following information and more:
What to expect, and how to achieve the greatest benefit
Considerations for upgrade and migration
Protecting data during the migration process
Compliance and Risk Mitigation
If you would like to watch our webinar on Windows Server 2003, you can view it here: