Want to Scan a Document, then Convert to Editable PDF?
by Bridget.Giacinto, on Jul 15, 2014 11:42:30 AM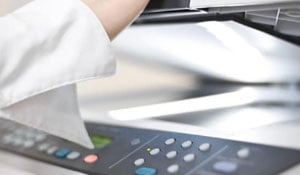 Have you ever lost the original file for a document and simply didn't want to go through the time consuming process of retyping the entire document? If so, you are not alone. I have experienced this issue on multiple occasions and would have loved to have been able to scan a hard copy of a document, and have it generate an editable PDF. While I'm daydreaming of the possibilities here, I would also like the ability to take that PDF and convert it into a Word document or a PowerPoint presentation with all of my columns, tables and graphics intact. I thought this was just an unattainable dream, until I came across a product called Power PDF by a company called Nuance. I almost didn't believe it until I tried if for myself.
For a recent project I have been working on, we needed to take all of our Marketing material to rebrand it with our new look and feel to be consistent with our upcoming website launch. In trying to track down the native files for all of our documentation, and I painstakingly discovered that there were some files that I simply couldn't find the original files for. I really didn't want to have to recreate all of the MIA documents, so I started looking for a solution. Power PDF converter really came to the rescue.
Convert PDF's into Word Documents
If you a PDF that you are working with, you can open it within the Power PDF software and convert the file to a Microsoft Word document with all of the styling, images and layout accurately reproduced. From there you can copy all of the content to your new Word template and make any content edits and then resave the PDF in minutes rather than hours. You can only image the amount of time this saved me.
Scan Documents and Convert to Editable PDF Files
If you have ever needed to sign anything and then email it back to someone, you will love this feature. In the past when I needed to scan a file, my scanner would essentially create an image of the file. This is not terribly helpful, although until now it got the job done. I would much rather have been able to have my scan become a PDF that I could then edit if I needed to. If you have multiple pages to scan, the last thing you want is a bunch of individual images. I would much rather have a PDF document with multiple pages. With Power PDF, this is all possible and incredibly easy to use.
Convert PDF files to PowerPoint Slides
In this day and age, content is used and so many different formats. Rather than retyping, or copying and pasting the content from one program to the next, you can just convert the file and maintain all of the existing layout in the new program. For example, say you want to take the charts and graphs that you created for another project that are saved as a PDF in an upcoming PowerPoint presentation you are working on. With Power PDF, you can convert your PDF files into a fully functional PowerPoint presentations, with all of the graphs and charts intact. It has seriously never been easier to convert your content into whatever Microsoft file format you need to work with.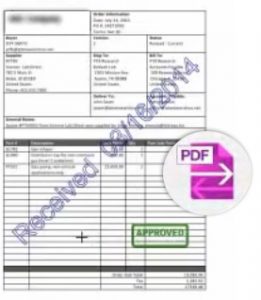 Applying Watermarks, Stamps and Signatures
For accounting departments, this program is incredibly useful for tracking invoices. You can scan invoices, and easily stamp them with a received date as a watermark, apply a stamp of approval, sign it and then save it digitally as a PDF or even print it out for your records. You can also customize your stamps and watermarks so they are unique for your company.
Protecting Your Documents
Now that you have created, scanned, converted, edited and saved your new documents, it's important to back them up. 47% of data loss is due to accidental deletions at the hands of end users according to The Aberdeen Group's Report "SaaS Data Loss: The Problem You Didn't Know You Had." Another 17% is due to the data being overwritten.
Having a backup plan in place can save you the headache and in some cases, your business. According to Boston Computing Network's Data Loss Stats, 60% of companies that lose their data will shut down within 6 months of the disaster. Avoid disaster by proactively backing up your files with NovaBACKUP. Designed for small businesses, this software automates backup processes, and includes setup assistance so any small business user can protect their data without the fear that comes with implementing a new solution. It's set up right, right from the start so you can focus on what you do best...running your business.
For more information on Power PDF converter, click here.