The Dangers of Cyber Attacks on Small Businesses (And How to Mitigate Them)
by Paula Kubo, on May 5, 2021 8:37:58 AM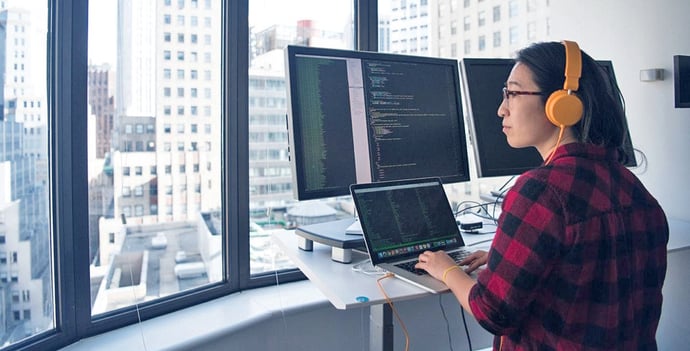 Cases of cyber-attacks are continuously growing, especially against small businesses. Malicious agents take advantage of the fact that most small organizations do not have the resources or cyber security implementation to protect their systems.

Based on the Hiscox Cyber Readiness Report, the average cost of a single cyber-attack incident is now just under $200,000. This is a financial setback that the majority of small businesses would have difficulties recovering from.
Top Cybersecurity Threats for Small Businesses
Small businesses arguably have the most to lose if they're hit with a harmful cyber-attack. Hence, small firms must be knowledgeable about the possible types of cyber attacks or threats they could face.
Phishing Attacks
Currently, phishing attacks are the biggest and most damaging threat small businesses face. It accounts for 90% of all breaches and occurs when a malicious agent is disguised to be a trusted contact, enticing a user to click a questionable link or download a harmful file.
Malware Attacks
Malware encompasses different cyber threats like viruses and trojans. It's a term used to describe malicious code that attackers create to obtain access to networks and compromise data in computers. Malware often originates from unsafe website downloaded, spam emails, or infected devices.
Ransomware
Ransomware is a form of malware designed to encrypt data and lock users out of important company data, rendering the encrypted files useless without a decryption key, thus forcing a business to pay a ransom to unlock their compromised data. This situation leaves companies with a challenging decision — either lose money by giving in to the demand or paralyze operations due to data loss. ( Download our Ransomware Prevention Checklist )
Weak Passwords
Many small businesses utilize different cloud-based services which can contain sensitive information and financial data. Using weak passwords, that are short in length or simple in nature, or using the same ones across different accounts, can result in the data being compromised.
Insider Threats
Insider threats are risks caused by past or current employees' actions. These individuals usually have access to important company data, and if they are careless or have malicious intent, they can compromise all of this.
How to Prevent Cyber Attacks on Small Businesses
Small business must take proactive measures to mitigate the potential damage that can be caused by cyber attacks.
Passwords must be unique and updated regularly
The first step in your cybersecurity plan should be to ensure that passwords used by everyone in your company are strong, unique and changed regularly. Numerous password security solutions on the market utilize password generation technology for your accounts. These credentials are often a combination of lowercase and uppercase letters, numbers, and symbols, for the highest security.
Consider managed IT services
Managed services providers offer numerous benefits to small businesses, especially when it comes to cyber security and data security. From the close monitoring of network changes or breach attempts, to rapid incident response, managed IT services have become vital for businesses requiring quality solutions that don't break the bank.
Backup data in a cloud-based or off-site server
MSPs often host your data in a virtual server environment — facilities that observe international security and control standards. This keeps your data safe in a remote facility, so should a breach or disaster occur in your office, you can still recover quickly and get back to business.
Install secure software and perform regular updates
Making sure that you only install trusted and authentic software, such as those with Code Signing Store certification, is critical to minimize the risks of software vulnerabilities in your system. As an extension, you must also guarantee that all computers and applications used in your organization are up-to-date.
Educate employees about phishing schemes
Phishing accounts for over 90% of cyber attacks on small businesses and can affect all of your employees. Training and educating your staff to be discerning regarding electronic messages they receive is a must to prevent your company from being the subject of a phishing attack.
Preventative security is a critical part of a small business' continuity plan. However, should the worst case scenario occur, a reliable backup solution restores small businesses back to a state of productivity quickly. We invite you to speak with a backup expert for a free evaluation of your environment.