Surprising Results from Our Small Business Virtualization Survey
by Bridget.Giacinto, on Aug 19, 2014 8:05:53 AM
With perceived cost barriers for entry into virtualization technology rapidly dropping, small businesses are seizing the opportunity to reduce hardware and maintenance costs and further centralize company data protection. In a recent poll of top NovaStor Authorized and Certified Partners, there's a burgeoning public acceptance of virtualization, with requests for server consolidation solutions steadily on the rise. Today, strengthened regulations regarding the protection of customer data and heightened awareness surrounding data protection has prompted clients to seek out straightforward solutions that protect both physical and virtual environments.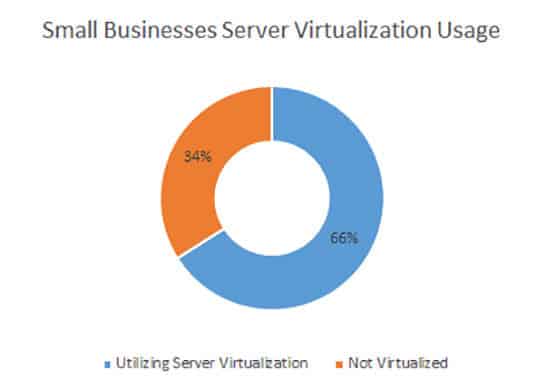 Small Business Virtualization Survey Results
Overwhelmingly, more than 66% of small business NovaBACKUP users are utilizing server virtualization with up to 80% planning to adopt the technology in the near future. In the future, these numbers will continue to climb as businesses grow in size to over 100 employees, with the average distribution of virtual servers vs. physical servers for these small business environments averaging around 38% physical and 62% virtual.
Capitalizing on this trend, NovaBACKUP Business Essentials offers IT administrators Single File Restore for Virtual Machines (VMs), a virtual dashboard, and VM replication functionality. And combined with the option to back up physical machines, customers have the flexibility to deploy in mixed environments easily.