Study Discusses Converged Approach to Backup Software
by Bridget.Giacinto, on Apr 4, 2014 9:41:25 AM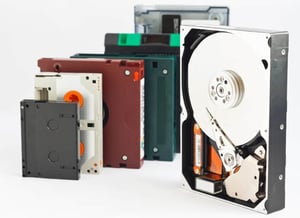 A recent Enterprise Strategy Group (ESG) study on different approaches to backup of data suggests that more and more users are opting for a converged approach to backing up and archiving data, according to senior analyst and lead researcher Jason Buffington. A survey was administered to a sample of professionals in the field. The results were both promising and interesting.
Increased Awareness Regarding Backup and Archive
83 percent of respondents reported that they currently used backup software for part or all of their archiving strategies. 41 percent of respondents said that they currently used backup software as their sole means for data archival. In the past, many people thought that archive and backup were the same. However, traditional backup software has not typically offered easy access to or indexing capabilities for search data. Consequently, archive and backup were often separated, which frequently led to duplication of data.
Archive and Backup Can Work Together
Backup and archive should be complementary rather than overly redundant. The addition of archiving features to current backup software has helped address the issue of large quantities of duplicate data that interfere with other critical operations. This is becoming more and more possible given the archiving features commonly seen in current software. The ability to converge data is available on backup software platforms that are adequate for many organizations in terms of cost as well as ease of use.
Companies That Should Consider Backup Software With Archiving-Specific Features
Utilizing a product for both backup and archive is not necessary for every organization, particularly for users who are looking to shrink primary data storage. However, convergent backup and archive software can be very helpful for organizations that look for the following:
Specific auditing
e-Discovery
Hold and compliance features
In addition, organizations that want to groom primary data can see increased performance, even if archiving is not specifically designed for data grooming purposes. Currently, data preservation and backup restore software is still more important to most users than data grooming.
Interesting Finding: Tape and Disk Use Among IT Professionals
Numerical data regarding tape use for backup was almost identical to data for disk backup, according to survey respondents. Disk backup has ample research to support that it offers faster restore times than tape. However, both are currently in use for both backup and archive. Those who currently use tape for archiving typically reported that data recovered from tape-based archival systems was usually less than 25 GB and less than 24 months old. Buffington anticipates increased use of cloud storage for archiving in the near future as tape is typically not the best or most obvious medium for archiving. Many respondents also reported that they were interested in exploring different options in cloud archiving.
The Best Solution for Backup Restore Software
The best solution for backup restore software is almost always highly individualized and user-specific. At NovaStor, we can help find comprehensive backup solutions that meet the needs of individualized clientele. It is important to remain aware of all available backup and restore options as well as potential options that may be available in the near future. Let us help you discover exactly what you need.