How to Simplify Data Protection with Centralized Backup
by Bridget.Giacinto, on Sep 9, 2014 11:06:31 AM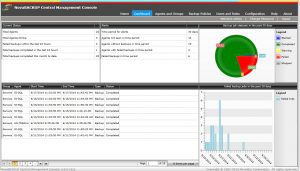 Centralized backups allows IT managers, service providers and resellers to manage and monitor all backups for their users or clients from a single remote location. Utilizing the web-based NovaBACKUP Central Management Console (CMC), client installations of NovaBACKUP can be installed and managed from anywhere with internet access. All backups can be automated and monitored to ensure that they are working properly. Notifications can also be set up so that if a backup fails on one of the clients, the administrator can remotely setup or modify backup jobs. If administrators receive notice of a deleted file or files, they have the ability to remotely run a restore of lost files.
CMC includes a dashboard for a quick view of the most important figures, giving admins an immediate status snapshot of all connected NovaBACKUP installations and offers simplified wizards to help them create, delete, modify and schedule backup jobs.
The console offers an easy drill down option that allows administrators to access the file system of a single NovaBACKUP instance to select specific files and folders as well as selecting from SQL, Exchange, or specific virtual machines.
Videos on Using NovaBACKUP CMC
Part 1:
Check out this video for step by step instructions on how to set up the Central Management Console.
This CMC installation video covers:
How to install NovaBACKUP CMC
How to access CMC through your web-browser using Microsoft Silverlight
How to run the application out of your browser
How to create a short-cut icon on your desktop
How to create Users and Roles for the Central Management Console
http://www.youtube.com/watch?v=d2FRrmlJDUs
Part 2:
Check out this video for information on how to use the Central Management Console.
This second video in the CMC instructional series covers:
Setting up Agents and Groups
Performing a Backup from the CMC
Performing a Restore from the CMC
Logging
Adding a device
Performing a Virtual Machine Backup from the CMC
http://www.youtube.com/watch?v=nGsss1xLw6w
Centralized Backup Trial Download
If you have not downloaded CMC, I recommend downloading the trial of NovaBACKUP CMC so that you can follow along. Download NovaBACKUP CMC now.
View all of our SMB Backup Software Solutions. View all downloads
If you would like to become a NovaBACKUP reseller, join the NovaStor partner program today!