With Setup Assistance, NovaBACKUP takes the Guesswork out of Backup
by Bridget.Giacinto, on Dec 5, 2013 10:09:08 AM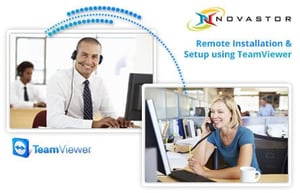 For small business owners who don't have the IT know-how to set up a comprehensive backup plan for their company, or the staff on-hand to help them set it up correctly, backing up their critical business data can feel a bit overwhelming. But the good news is, it doesn't have to be. With NovaBACKUP, you get professional Setup Assistance.
With Setup Assistance, small business owners can rely on NovaBACKUP's in-house backup experts to get their backups set up right...right from the start, so they have the assurance that their data is safe. By offering customers Setup Assistance, the guesswork is gone. When users purchase NovaBACKUP Server, NovaBACKUP Business Essentials or NovaBACKUP NAS, they can schedule an appointment with a NovaBACKUP backup expert to install, configure and schedule their backup jobs – at no additional cost. This level of service is unheard of in an industry that is filled with cutting corners, a de-emphasis on small business users and moving support overseas. NovaBACKUP is taking the opposite approach, by focusing on local, in-house support designed specifically to meet the needs of the small business user. NovaBACKUP is backup for the rest of us.
"Although we often talk in marketing about how simple our backup solution is (and it is in terms of setting up basic protection and backup schedules) the fact is that many nuances and special scenarios exist… and these can make the world of backup quite complex. With the NovaBACKUP Setup Assistance, we remove any stress with those cases. You literally don't need to study our product. Just purchase and let our techs do everything for you. It's fully guaranteed, so there's no risk. 30 minutes of your time is all we need!"
- Scott Mullen, Director of Online Sales.
So what is included with Setup Assistance?
30 minute Setup Assistance consult scheduled at the time of purchase.
Includes remote installation, configuration and backup job scheduling.
With Setup Assistance, NovaBACKUP makes it easy for small business users to get a professional backup plan implemented, without any knowledge or understanding of backup software. No other company offers this level of support. View NovaBACKUP products now.