5 Rules of Server Backup for Small Business Owners
by Bridget.Giacinto, on Dec 23, 2013 9:14:05 AM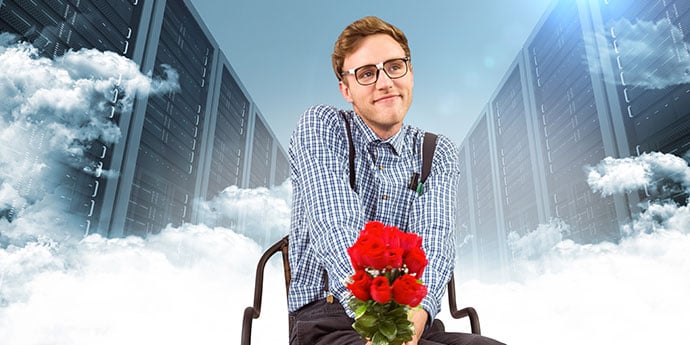 Deciding what type of server backup you want to use is a lot like dating. Whether you have loved and lost (data) in the past or have never considered backing up until now, if you follow these five rules when backing up your data, you can enjoy a long-term, harmonious relationship with all of your business files and systems. If not, be prepared for a bitter break-up!
1. Anything worth backing up is worth backing up twice.
You don't necessarily want an exclusive relationship when it comes to data replication. In fact, experts recommend that you create not just one set of backup files, but two. If you trust your data solely to a third-party provider, you can lose control of your own files. Keeping a second set of backup files is sort of like that "backup" deal that you have with your best friend of the opposite sex if neither of you are married by the time you are 40.
2. Keep some distance.
While using software to back up your data to an external hard drive or a network drive might seem like a quick, easy, cost-effective solution, it is dangerous to keep all of your server backup files on site. In the event of a flood or fire, you will still likely lose all of your data. It is a good idea to keep some distance between the two places that store your backup files. You may want to consider backing up your local storage to the cloud. There is nothing nebulous about backing up to the cloud; it offers some clear-cut advantages.
3. Make a grand gesture.
Whether you choose a network drive, a cloud, or any other type of storage for your backup files, the amount of money you spend will ultimately be determined by how much storage space you need. As far as hard drives go, you won't save a lot of money by buying less capacity; therefore, it is typically best to buy as much capacity as you can. This should allow your backup solution to accommodate the growing needs of your business. If you choose an online storage service, you can typically add or remove space as needed, but this will likely change your monthly rate. Also, remember that you should be backing up everything you may want to restore—from spreadsheets to your operating system. Anything else should fall short of your expectations.
4. Timing is everything.
Don't play the waiting game. You shouldn't wait three days to schedule a backup; your server will inevitably crash the day before you plan to back it up. It is important to back up your data every day. This doesn't mean that you have to run a full backup each and every day; most software will allow you to schedule incremental backups on a daily basis and a full backup on a weekly basis.
5. Keep it simple.
No one likes to be in a tedious relationship. The easier it is to be together, the more likely you will stay together. Look for server backup solutions, like those offered by NovaBACKUP, that are packed with convenient, user-friendly features such as:
Back-up wizards
Automatic scheduling
Versioning control
One-click disaster recovery