Why Physical and Virtual Machine Backup Just Makes Sense
by Nathan.Fouarge, on Oct 15, 2014 8:21:57 AM
As I stated in my previous article about why virtualization can make sense in the small business world, not everyone can virtualize all of their data, especially since it still takes time to do the migration. During the transition period where you are migrating to virtualization, or even after you have migrated everything you want to move to a virtual machine - you will still need to perform backups of your physical machines. Then, after you have implemented virtualization, you need to be able to back up the new virtual environment, along with whatever physical machines you couldn't virtualize.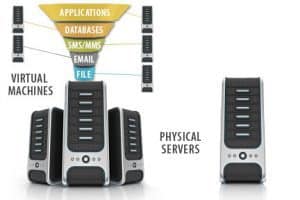 If you are not yet familiar with all of the virtualization terminology, check out this post on the most important virtualization terms you should know.
More than Just Virtual Machine Backup
There are a number of software packages today which focus exclusively on physical server backup or virtual machine backup that targets small businesses, but there are very few options that combine both physical and virtual backup all into one package. NovaBACKUP Business Essentials is one such product, which NovaBACKUP developed as a means to offer small businesses a singe solution to meet all of their backup needs.
Will Your Backup Solution Grow with You?
When it comes to backup software, you want to invest in solution that will grow with you...without added upcharges for every new technology or application you want to protect. For example, if you are not yet ready to make the move toward transitioning into virtualization, or based on your budget it may be a year or so before you refresh your hardware, that is perfectly fine. NovaBACKUP Business Essentials will backup the physical machines you have now, and allow you to backup your virtual machines as your infrastructure grows, later. Save yourself the time and money it would otherwise cost you to go back to your software vendor, get another quote, purchase and install another plug-in, or acquire an entirely new software package. Everything is included with NovaBACKUP!
When it comes to educating users, I try not to present a biased opinion (especially when it comes to competing software solutions), but in this case, it's different. Why? Because I don't know of any other piece of software out there that gives customers physical server backup, along with no restrictions on the number of virtual machines that can be backed up with a single piece of software that is focused on small businesses. When it comes to small businesses, it just makes sense to have a single, all-inclusive solution that will grow with you.