Planning for healthcare, and safeguarding your privacy
by Keelyn.Young, on Apr 13, 2017 12:10:33 PM
The national discussion surrounding healthcare has been on the table since the election of 2017. But regardless of political leanings, Americans simply want reliable, affordable healthcare that gives them some degree of choice. And choosing a specific healthcare plan can be a difficult, and confusing process.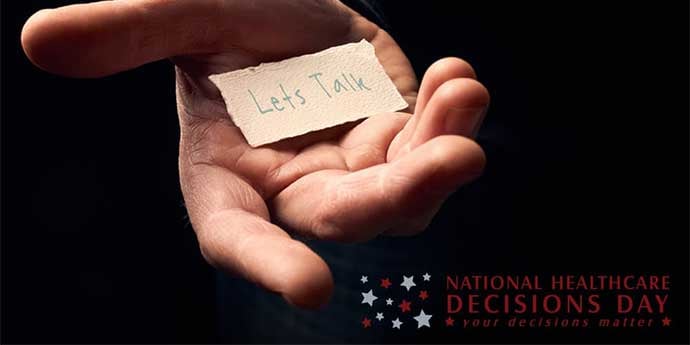 Enter National Healthcare Decision Day (NHDD), a week-long national event designed to help individuals with tackling this task successfully and correctly. The mission of NHDD is to inspire, educate and empower both the public and providers about the importance of advanced care planning. NHDD is an initiative to encourage patients to express their wishes regarding healthcare and for providers and facilities to respect those wishes, whatever they may be. To get the public involved the Institute for Healthcare Improvement has set up several events for the week. Take a look at the schedule below.
NHDD 2017 Agenda
Sunday (4/16): Prepare
- A day to get resources together
Monday (4/17): Start with Yourself
- A day to think about your own healthcare decisions
Tuesday (4/18): Family/Friends/Loved Ones
- A day to discuss your wishes with others (and learn their wishes)
Wednesday (4/19): Spread the Word
- A day to tell others that you've engaged in advance care planning and encourage them to do the same
Thursday (4/20): Facilities Focus
- A day for healthcare providers of all sorts to promote advance care planning
Friday (4/21): Professionals Preparedness
- A day to ensure that all professionals (healthcare, clergy, legal, and others) understand and can promote advance care planning
Saturday (4/22): Reflection and Readiness
- Consider what worked well for NHDD week and file/share your advance care plans so they will be available if needed
For more on National Healthcare, Decision Day clicks the link. (http://www.nhdd.org/)
Know Your Rights
Did you know that as an individual you have a right to electronic copies of your medical records?
As you plan and discuss your own healthcare decisions, take into considering your own rights under HIPAA. Here is a great little infographic which outlines your healthcare rights of access.
Where NovaBACKUP Helps
Protecting this personal healthcare information is also a daunting task for both individuals and healthcare providers. It is critical to have the right software as a protection measure from high-risk threats.
NovaBACKUP Business Essentials and Network offer all-inclusive windows backup for business-critical applications & virtual machines. NovaBACKUP addresses the strict requirements for HIPAA compliance and meets the needs of individuals and small businesses with fast, scalable and secure data protection.