Top Tips to Protect Kids Online
by Sean Curiel, on Jun 19, 2020 8:00:24 AM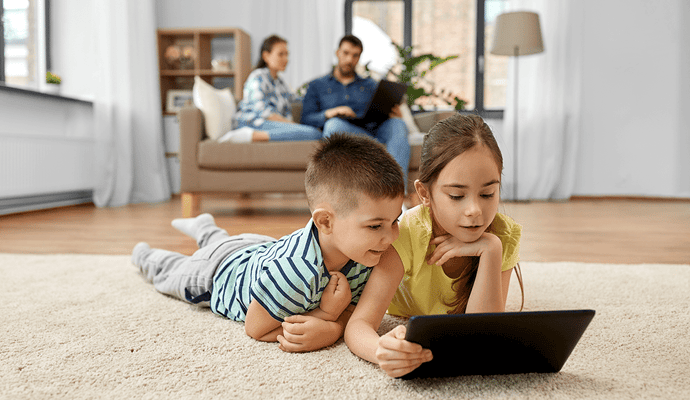 Easy access to internet connected devices have created new possibilities in child education and our kids being able to communicate with each other. Likewise, it has also opened the door to potential threats, creating a challenge for parents and educators to guarantee privacy and security for young people. There are ways to both foster healthy online habits, and limit overall exposure. The lessons children learn from parents today will be critical as they become more independent. We offer our top tips on how to best protect children online.
VULNERABILITY: DEVICES & SCREEN TIME

As a guideline kids should have less than 2 hours of screen time per day. Meanwhile children are accessing the internet in a growing number of ways from cell phones, laptops, and tablets to various other smart devices like TV's, watches and gaming consoles. Numerous tools such as content filters exist to help parents control access and limit adult content.
DEVICE & SCREEN TIME
TIP
Knowing what devices your children are using is priority #1. How are they accessing the internet when outside the home? Rules should be set to limit screen time and devices located where parents can monitor online activity, even participate in it. Devices must be kept up to date with the latest operating systems and security patches to help prevent unauthorized intrusion.
VULNERABILITY: APPLICATIONS

At the touch of a button a child can download and install a new software application which opens up an entirely new set of capabilities and potential exposure. Many new applications are targeted specifically at children and should comply with the Children's Online Privacy Protection Act (COPPA) to get your consent when gathering any personal information.
APPLICATIONS
TIP
Talk to your child about clicking the download buttons and vet all applications before they install. Understand the type of communication that takes place inside the App and review the privacy policy of how personal information is gathered, stored, and used. Disable in-app purchases to prevent accidental charges. Location tracking should be disabled to guard privacy, alongside other smartphone security recommendations.
VULNERABILITY: SOCIAL MEDIA

Sites that connect children and allow them to receive education, share experiences and exchange dialogue can be a positive thing. Unfortunately all too often they can be leveraged by predators or misused by children for activities that result in cyberbullying. Young minds may also have difficulty gauging the consequences of their actions in online versus offline environments.
SOCIAL MEDIA
TIP
Connect with your children directly on social media and play an active role in helping them understanding how to behave online. What constitutes bulling and how to react, must come from the parent. Teach them how spreading rumors or dangerous images can have serious real-world results. Demonstrate healthy interactions that support family and friends and always be aware of who they are connecting with.
VULNERABILITY: ONLINE GAMING

Educational games for young children can boost reading, math and science interest and abilities. Inevitably as they grow older they will be exposed to games as entertainment, a market which is forecasted to surpass $200 Billion by 2023.
ONLINE GAMING TIP
Pay attention to the age rating for games as one way to surmise the level of violence and adult content. Select a username which reveals no aspects of identifying information (such as name, or birthday). Many games have the ability to disable chatting with others during the game. If not possible – blocking and muting abusive players must be well understood. Watch for warning signs of inability to stop or take breaks. (On-Line Gamers Anonymous for Parents of Young Children)
VULNERABILITY: EMAIL / MESSAGE / FILE SHARING

Children accessing the internet must be provided with the tools necessary to protect themselves from hackers, ransomware, predators and a host of other bad actors that will leverage a range of methods to prey upon children to steal data or even their identity.
EMAIL / MESSAGE / FILE SHARING TIP
An unfortunate reality is that who your child speaks to, might not be who they think it is. It's up to you to help them understand the dangers out there. They may be approached with phishing schemes that pretend to be someone that they know, or may offer dangerous email links posing as "free music" or games. Help them to understand that once a piece of personal information is shared online – it is public forever.

Applications that help parents protect a children online such as content filters, password managers, and monitoring tools should be fully explored when setting up your child's access to the online world. But equally important is opening a dialogue with your child to discuss deeper moral questions, and to demonstrate what healthy online activity looks like. Use strong passwords, up-to-date antivirus and NovaBACKUP software to safeguard their data against cyberattacks and threats. By taking these measures, you will create a secure environment for positive interactions with family and friends.
Other informative sites for protecting kids online:
FTC Consumer Information - Protecting Kids Online
Tripwire Security Blog - How Do You Protect Your Children When They Go Online?
Kids Health - Internet Safety
Security.org - Protecting Kids Online
Consumer Reports - Internet Safety for Kids