Backup and Sync Your Backup to Cloud File Sync Services
by Bridget.Giacinto, on Dec 3, 2014 4:06:48 PM
With the advent of cloud backup and the introduction of file sharing in the cloud, there has been a lot of confusion in terms of what is and is not cloud backup. Let's start by looking at "What is Cloud Backup?" Cloud backup, also known as online backup, refers to the backup of data stored on an offsite, cloud-based server. For clarification, a cloud-based server is a remote server that allows data to be accessed on demand via the Internet from a cloud computing service provider.
Data stored in the cloud can either be saved in the files native format (i.e. Word, Excel, PowerPoint etc.), or it can be stored in a compressed and encrypted format through the use of a backup software solution. Cloud backup software solutions enable users create a backup of their data in a proprietary, encrypted format to help prevent users' data from being viewed by anyone other than the intended party. The file or image backup is then uploaded via an encrypted Internet connection to an offsite location, which is often hosted by a third-party cloud storage service provider.
What is Cloud Storage
Cloud storage is different than cloud backup in that cloud storage is referring to the actual storage space available to store data online. File sharing and file sync service providers would fall into the cloud storage category in that they are not actually backing up your data, they are storing it. Many of these cloud storage service providers (like Dropbox, Google Drive, OneDrive, SkyDrive, SafeSync and iDriveSync) offer file sharing applications that can be downloaded and installed on your system so that you can edit files in the cloud right from your desktop. The problem with this approach is that these files can easily be overwritten. For certain files that may be fine, but when it comes to data protection, if a file can easily be overwritten, it is not backup. If you are not using a backup software to backup and encrypt your files that are saved in the cloud, your files are vulnerable to attack either from a hacker, like in the case of the iCloud hack affecting Jennifer Lawrence or from viruses like CryptoLocker or CryptoWall.
Cloud storage definitely has its advantages in terms of file sharing (especially when the files are too big to email), or when you want to collaborate with co-workers, or you simply access files from multiple devices via the cloud, but it is not a true backup of your data. However, there are ways to use your favorite file sharing cloud storage as a destination for your backup, so that it can be used as a cloud backup. Let me explain.
Backup and Sync Your Backup to the Cloud
Some backup software solutions, like NovaBACKUP allow you to use popular file sharing services as a backup location for your backups, in essence allowing you to backup and sync your backup to the cloud. This also allows you to take advantage of free cloud storage available through some of these file sharing service providers.
Dropbox offers 2GB of free cloud storage, with an option to upgrade to 1 TB for $9.99/ month or $15 a month for unlimited online storage. Google Drive offers 15GB of free cloud storage with a low-end option of 100 GB for just $1.99 / month and a 1 TB option on par with Dropbox. Microsoft's OneDrive also offers 15GB of free cloud storage with several competitively priced options on a tiered scale. Starting in October of 2014 Microsoft announced that it would be offering free unlimited cloud storage to Office 365 subscribers. That's not to say this option is completely free, as there is still an annual subscription fee, but it's reasonably priced at under $100 a year and it does away with the caps in data and pricing tiers for Office 365 users.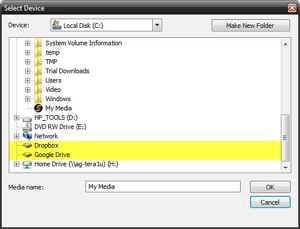 Many of these cloud storage providers offer both a web-based service and an application, which can be downloaded onto your computer. When you download the application, it allows you to create a folder on your computer that is then synced to the cloud.
Then, when you do your backup, you can simply select this folder as the device destination for your backup, as shown to the left.
Here are links to the cloud storage applications mentioned above:
All you need to do is download and install the application for your favorite file sharing service (if you have not done so already), and check to see that you are logged into their service. If you have not set up your account with them, you will need to do so, but it is very easy to do so. For step by step instructions on how to use NovaBACKUP to backup and sync your backup to cloud file sharing services, click here.
Create a Local Backup & Cloud Backup
If you would like to create a local backup on an external hard drive or flash drive that will then be synced to the cloud, you simply select this external drive as the location for your folder when you install the cloud storage application. Then when you create your backup, you select the folder on the external drive as your destination and voilà you have a local backup (that is not stored on your computer) and a cloud backup. All of your backup jobs that are within that folder will automatically be synced to the cloud via the Internet anytime you are in Wi-Fi. You can also setup a retention schedule to clear out older backups so as to not use up more storage space than you need to.
For more information on the different cloud storage service options, you may want to check out this post on CNET: OneDrive, Dropbox, Google Drive, and Box: Which cloud storage service is right for you? For an in-depth comparison of cloud storage providers, check out this post on the Best Cloud Storage of 2016 on Cloudwards.