The NEW NovaBACKUP 19 is Now Available
by Bridget.Giacinto, on Jun 8, 2017 4:11:44 PM
It's not every day that we get to announce a new major version upgrade to our small business product line, with both feature enhancements and a range of backup support services – but today is such a day! NovaBACKUP® Version 19 boasts the most affordable, user-friendly, all-inclusive backup software on the market today – backed by knowledge and service from the data protection experts.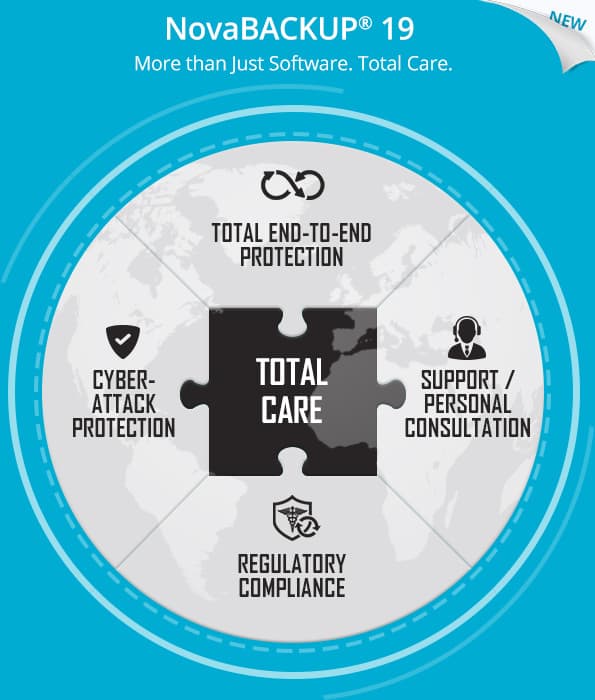 Today's product launch has been dubbed the "Total Care" launch. "What does that mean?", I hear you asking. It means that we're focused on our commitment to providing users and partners all-inclusive backup and recovery, end-to-end protection at an affordable price point – backed by 20+ years of backup expert knowledge and service.
System administrators know that software is only as strong as the company behind it, and when it comes to meeting the strict industry regulatory requirements (HIPAA, PCI, etc) or recovering from a devastating ransomware attack – having the extended hand of someone who has been through it all can make the difference.
Services including NovaBACKUP's Setup Assistance, which comes complimentary with all server products, offering a one-on-one scheduled appointment with a technical expert to ensure that a successful backup routine is enacted from day one. But our commitment doesn't stop on day one. We include US based telephone and email support with the sale of each server product to bring this value to our customers for the long haul.
Long time users of NovaBACKUP will also notice exciting new enhancements including significantly faster restore times, advanced data verification, and improvements to our FREE (CMon) Central Monitoring Console which provides instant assurance from wherever you are, putting critical information at your fingertips.
Our latest effort to bring a highly flexible data protection solution to the marketplace with NovaBACKUP 19, is part of a mission to create a Backup For The Rest Of Us. In other words, a solution that gives small businesses the independence to neutralize the effects of modern threats like ransomware with secure backup, while making regulatory compliance an easily attainable reality.