NovaBACKUP 17: What's New
by Bridget.Giacinto, on May 12, 2015 9:49:41 AM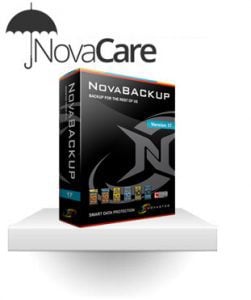 We are excited to announce the recent release of NovaBACKUP 17, the #1 single-server backup solution. This new release offers significant improvements in our reporting capabilities including new daily, weekly and monthly backup alerts, so you always know the status of your backup jobs at all times. These new summary reports offer simple color coding, giving you the ability to, at a quick-glance, know if your backup jobs ran successfully or if you had any warnings or errors. This allows you to quickly and proactively address any issues as they arise.
By creating backup job summary reports, you will get detailed information on all jobs that ran during the time period you set, including full, differential, incremental, and disaster recovery backup jobs, in one easy-to-read report. These summary reports include information like, when the jobs ran, how long they took, what the destination drives were, and how much storage space your destination devices have remaining. This can be incredibly useful in that you will now have advance notice when your storage space is running low so you can proactively make decisions on how to handle your storage needs, whether it be to purchase more storage, run a retention job or select an alternative storage destination before you run out of free space. The last thing you want is to have a back job fail simply because your storage destination does not have enough free space for your backup files. Learn how to create backup summary reports.
Plus, with new one-step email notifications, you can get these reports sent directly to your inbox without any configuration. It's truly as easy as entering your email address and you're done. While simplicity is the aim for many users, we also allow you to optionally enter custom SMPT server configurations to set up a mail client to take care of the delivery of their email alerts should you want to do so. With custom configurations, you can setup your reports to meet your needs. If you want, you can even create reports for individual backup jobs, so you only get notified if there is an issue with a backup job, so you can quickly address any warnings or errors should they arise. Learn how to setup email alerts.
With one full year of NovaCare support and free upgrades included with every server-level NovaBACKUP purchase, you can be sure that you will always have the latest technology and a dedicated support staff behind you to lend a helping hand should you need it. With U.S. based support, right here in sunny California, you will get local support from NovaStor staffed backup expert who have the training and expertise to help you resolve any issues that you may face.
"We're very excited with the release of NovaBACKUP 17. Not only has the product has reached new tiers for speed and efficiency, but now we're even including "Setup Assistance" with each server purchase. This is an industry first installation service which continues to support our claim of being "Backup for the Rest of Us."
Mike Andrews, Managing Director at NovaStor
NovaBACKUP 17 release also comes with optimization for Network Attached Storage (NAS) devices, making it fast and easy to setup and select your NAS as a storage destination for all backup jobs including Disaster Recovery backups and virtual machine backups. You may also notice some user interface (UI) changes, an integrated support tab, advanced scheduling options, support for backup to file sharing services, and newly Patented file restoration technology also made it into this version.
In addition to feature enhancements, NovaBACKUP 17 also includes underlying code enhancements that are proving to be rock-solid in terms of stability and reliability, which we consider to be extremely important. Another unique feature that we are excited to be able to offer you, as a small or medium-sized business with limited in IT support and backup expertise, is free "Setup Assistance" for all our server-level products. This free service ensures flawless and worry-free remote installation and backup configuration so your backups are working properly from day one.
NovaBACKUP software, over the past few years, has firmly established a leadership position via 3rd party reviews, as the best single server backup solution on the market. This continued recognition comes from the fact that NovaBACKUP offers all-inclusive, full feature set solutions, including options for both local and online backup destinations, and support for both physical and virtual environments in a single solution at an affordable, budget-friendly price point.
NovaBACKUP 17 Launch Webinar
If you missed the webinar and LIVE product demonstration, you can catch the recording here:
In this webinar we explain how to quickly and easily use our latest backup technology, NovaBACKUP 17, plus:
- Invaluable Real Time Reporting and Email Alerts
- Advanced Scheduling
- Cloud Backup to Popular File-Sync Services
- U.S. Based Support with Setup Assistance