'Tis the Season for Unbeatable NovaBACKUP Savings and Giveaways
by Arianna Carter, on Nov 21, 2016 10:38:58 AM
The most wonderful time of the year is back again and NovaStor is offering huge savings that you don't want to miss out on! For the week of Black Friday NovaStor is bringing you the best margins of the year with savings up to 70%, a free NAS storage devices, and a daily gift card giveaway's. What are you waiting for? Take a sneak peek and be the first to shop these Black Friday and Cyber Monday deals.
For the entire week of Black Friday new and existing customers can experience the newly released NovaBACKUP Network for up to 50% off. With any NovaBACKUP Network purchase customers will also receive a Buffalo TeraStation 1200 2-Bay 2TB NAS device, a $205 value completely free. Shipped to the destination of your choice, take advantage of the local storage for your business or re-gift it to a friend (we promise we won't tell them).
Already established to have the best cost to feature ratio on the market, these deals provide an unbeatable savings. NovaBACKUP Network is the first truly networkable and centrally managed backup software for small Windows networks. Protecting Windows Servers, it comes equipped with support for granular recovery of Microsoft Exchange, SQL, SharePoint, virtual environments, and so much more.
As part of the total protection and performance bundle NovaBACKUP PC users can combine the security and backup services of NovaBACKUP PC with the optimization capabilities of System Mechanic to create one dynamic package. Available until the end of the year, this package already has a total savings of over 50%. However, during the week of Black Friday NovaBACKUP PC will be discounted even further taking the savings to 70% off.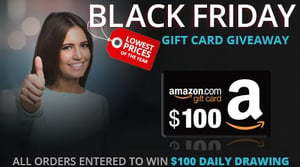 This one you'll want to tell your friends about! Anyone who purchases during the week of Black Friday will automatically be entered in the daily gift card giveaway. Every day during Black Friday week one lucky winner will receive a $100 Amazon gift card, compliments of NovaStor. We will be announcing the daily winner on Twitter and Facebook. The amount of entries is unlimited, so the more times you enter the better your chances are of winning!
These are the best prices available for NovaBACKUP all year, guaranteed. Don't miss this opportunity to stock up on licenses for future projects. For perpetual license purchases the clock doesn't start ticking on NovaCare support until the product is installed and registered, making it easy to save them until you're ready to get your backup projects started. If you're interested in becoming a partner check out our partner page.