NovaBACKUP Black Friday Deals + $1,000 Gift Card Giveaway
by Bridget.Giacinto, on Nov 17, 2015 1:57:19 AM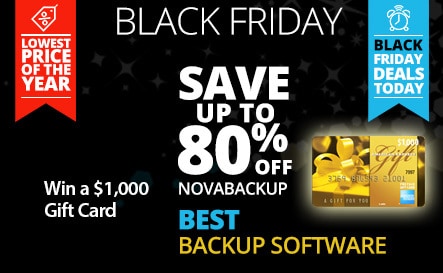 Big news just hit the newsstands. NovaStor is offering huge Black Friday savings – up to 80% off NovaBACKUP 17.2 plus a chance to win a $1,000 American Express Gift Card. Get a sneak peek at NovaStor Black Friday and Cyber Monday Deals.
If you could use an extra $1,000 for the holidays, now is your chance. One lucky winner this holiday season will get the opportunity to go on a shopping spree, thanks to NovaStor. Anyone who purchases NovaBACKUP through November 30th will automatically be entered to win. In addition, our Facebook Fans (Like us on Facebook) will be entered to win.
If you have been thinking about backing up your PCs or Servers and just haven't gotten around to it, now is the time to do it. You can get NovaBACKUP products, voted "best backup software" by TopTenReviews.com at up to 80% savings. These discounts only come around once a year so you don't want to miss them.
Solutions in the NovaBACKUP Black Friday holiday event include: NovaBACKUP PC for up to 5 users, NovaBACKUP Server, NovaBACKUP Business Essentials, NovaBACKUP NAS Essentials and NovaBACKUP NAS Suite. As always, NovaBACKUP comes with a full 30-day money back guarantee and phone-in call support with NovaCare, as well as free email support on all purchases. NovaBACKUP Server and higher products also come with Setup Assistance, so don't let time constraints or lack of know-how stop you from protecting your data.
With NovaBACKUP 17.2, you can backup locally, online and to your favorite file sharing services like Dropbox and OneDrive.
Don't miss out on this amazing chance to protect your computer systems and enter for your chance to win a $1,000 shopping spree on us.